The Museum of Contemporary Art, located just east of the John Hancock Center, is one of Chicago's most popular and well-known museums.
But did you also know there are several other museums on the Magnificent Mile?
Explore art, sports, faith, and Chicago's gilded past just steps from Michigan Avenue.
Museums on the Magnificent Mile
The Arts Club of Chicago
This gallery has been exhibiting international art by established and emerging artists for a century.
In addition to visual art, it's also hosted several performers, including such luminaries as Leonard Bernstein, Martha Graham, Gertrude Stein, Aaron Copland, Serge Prokofiev, James Thurber, and Igor Stravinsky, to name a very, very few.
Originally located in the Fine Arts Building, it moved to several locations before landing in its current home in 1997.
Where: 201 E Ontario St, 312-787-3997
Hours: Tuesday – Friday 11am to 6pm, Saturday 11am to 3pm
How Much: Free
Chicago Sports Museum
When Harry Caray's opened a location in Water Tower Place, they also opened this museum dedicated to sports.
It makes sense: their restaurants are filled with memorabilia. This attraction features items like Sammy Sosa's corked bat, but it also has interactive exhibits that allow you to test your jump height, broadcast from Wrigley Field, defend the goal against Patrick Kane, and see just how WIDE Scottie Pippen's wing span is.
TripAdvisor Certificate of Excellence
Where: 835 N Michigan Ave, 7th Fl, 312-202-0500
Hours: Opens daily at 11:30am; closes early occasionally for special events
How Much: Adults $6; Seniors $3; Children (under 3) free; Free for guests of Harry Caray's 7th Inning Stretch (minimum purchase required)
City Gallery
This free gallery is located within the historic Water Tower and features a rotating gallery of works by Chicago photographers and artists.
Where: 806 N Michigan Ave
Hours: Daily 10am to 4:30pm
How Much: Free
Richard H. Driehaus Museum
Step back in time at this remnant from Chicago's Gilded Age. This 19th century mansion is filled with art, design, and architecture from when the home was a residence, as well as contemporaries of the time like Louis Comfort Tiffany and the Herter Brothers. They often have special exhibits and tours that highlight life from the 1800s.
TripAdvisor Certificate of Excellence
Where: 40 E Erie St, 312-482-8933
Hours: Tuesday through Sunday 10am to 5pm
How Much: Adults $20; Seniors (65+) $12.50; Students $10 with valid I.D.; Youth (6 – 12) $10
Get Tickets to Driehaus Museum
Loyola University Museum of Art (LUMA)
Located in a 1926 Gothic Revival building, this gallery explores the art of the five major faiths of Hinduism, Judaism, Buddhism, Christianity, and Islam. The collections offer insight into these religions and the cultures that practice them.
LUMA can be a little hard to find, as it's not actually on Michigan Avenue itself. It's on a side street west of the Water Tower. Just sniff for chocolate; it's across the street from Ghirardelli.
Where: 820 N Michigan Ave, 312-915-7600
Hours: Tuesday 11am to 8pm, Wednesday – Saturday 11am to 6pm
How Much: Always free
Find more free museums in Chicago
Museum of Contemporary Art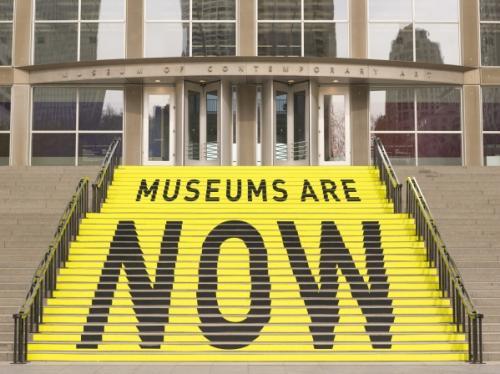 Most museums feature the works of artists who are long gone. This museum highlights artists who are more contemporary. Some (gasp) are even still alive. In addition to displays of innovative works, the Museum of Contemporary Art also hosts several events and performances.
Where: 220 E Chicago Ave, 312-280-2660
Hours: Tuesday 10am to 8pm; Wednesday – Sunday 10am to 5pm; Closed Mondays
How Much: Adults $12; Students and Seniors $7
TLTip: Tuesday is the day to visit the MCA. It's free year-round for Illinois residents, and during the warmer months there's a farmers market in the morning out front and live jazz on the terrace in the evenings out back.