It's out with the old – sort of – and in with the new – sort of – in Lakeview. Lark is the neighborhood's newest hangout recently opened in the old Halsted's location after a few months of renovation. Featuring a new menu and a retro feel, this spot combines past and present in fun and delicious ways.
LHK Management, the group behind Hydrate, Replay, and Elixir, among others, decided to revamp the 12-year-old Halsted's to create a neighborhood spot featuring wood-fired pizzas, pasta, sandwiches, entrées, salads, appetizers and weekend brunch. 
"Lark was inspired by the idea of bringing people together, like "birds of a feather flocking together," and having a lark, engaging in mischievous, lighthearted fun together. In this case, Lark is the neighborhood's go-to place to meet, relax and create new memories over cocktails, dining and retro board games every night of the week," said owner Mark Liberson.
The beer list is small but mighty and Lark's cocktail program is created by Vlad Novikov. The Master Mixologist is like the spirits whisperer. His creations are creative, balanced, and often whimsical. Take, for instance, the Duck Duck Mule. A twist on the traditonal Moscow Mule, this concoction is made with Aylesbury Duck Vodka, Balsam Amaro Bespoke Vermouth, Passionfruit, Rhine Hall Pear Brandy, soda, and fruit. AND you get your very own little rubber ducky. The mule is dangerously smooth. Have too many and you definitely won't be keeping your ducks in a row.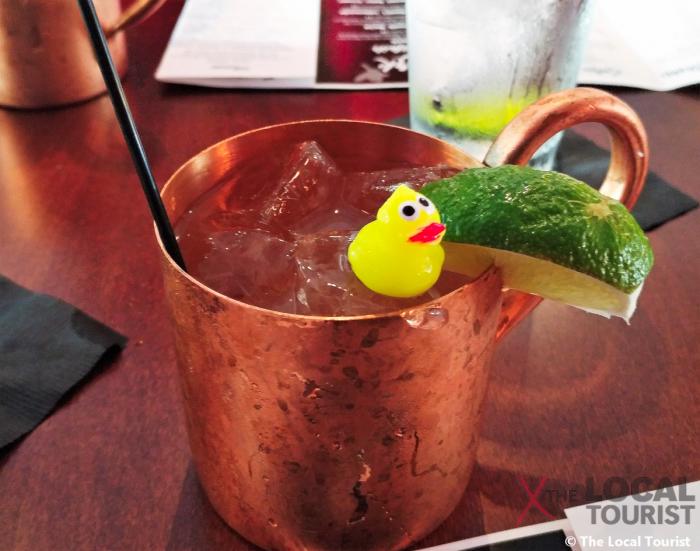 Their specialty, however, is Neapolitan-style pizza. They're so serious about it they've submitted their application to be certified with Associazione Verace Pizza Napolitana. This means they have to have the proper oven, the correct type of flour, certified mozarella, certain types of tomatoes, and even a specific yeast. You can get a traditional-style margherita or meat lover's, or walk on the wild side with a Peruvian potato and bacon or a Ducktrap river smoked salmon and pesto. Smoked salmon on a pizza? Delicious.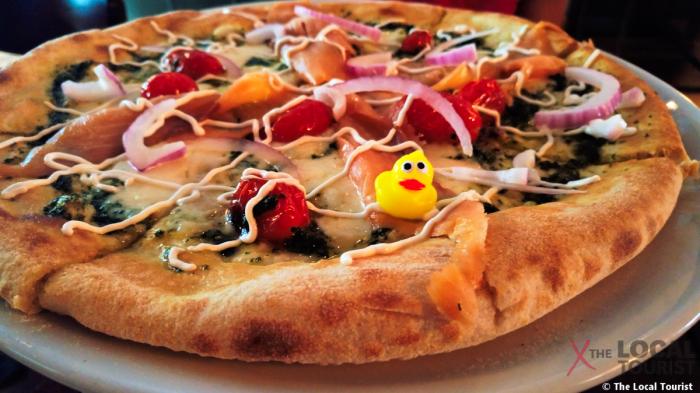 The rest of the menu is no slouch, either. They've got standards like Reuben and Cubano sandwiches, burgers, and Caesar salad, but they've also got handmade pasta, roasted fruit-brined half-chicken, smoked bacon and mushroom arancini, shaved fennel and kohlrabi salad with candied pecans and honeycrisp apples. Everything's made in-house, from the ranch dressing to the churro cookies.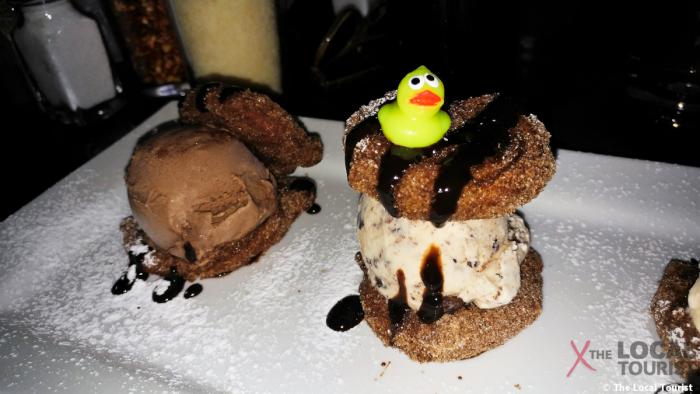 (I couldn't help myself with the rubber ducky. It's adorable!)
The new space is gorgeous. With dark wood bar from Cullen's Bar & Grill, a fireplace with comfy seating, and a huge patio out back, it's just plain comfortable. They've got retro board games so you don't get bored and retro videos on the flat-screens. They've got Happy Hour every day, including the weekends, and other specials throughout the week like half-price pizzas on Tuesdays. And if you go on Thursday they've got half price Moscow Mules, so you can get a little rubber ducky of your very own.
Lark is located at 3441 N Haslted Ave. They're open for dinner daily and serve brunch on Saturdays and Sundays starting at 10am.