Time flies when you're having fun… literally! Chicago is filled with incredible opportunities and one of those is with the Chicago Helicopter Experience.
Skydeck Chicago at Willis Tower and 360 CHICAGO at the John Hancock Building are top-notch locations that give you excellent views above the city. However, you must treat yourself to the most breathtakingly spectacular views of Chicago you'll ever witness, when you take a tour with Chicago Helicopter Experience (CHE).
CHE is Chicago's only FAA-certified helicopter tour and charter company, founded by Trevor Heffernan in 2011. They have their own heliport and fleet of luxury helicopters that seat up to six people. Their private heliport is the only one in Chicago and is just 8 minutes from the Loop along the south branch of the Chicago River. Plus, they have plenty of free parking.
I'm enamored with aviation and am in school to become a pilot, so when Chicago Helicopter Experience offered to take me on a tour, I jumped at the chance. I love being in the sky.
I've been on helicopter rides through the Grand Canyon and Las Vegas with other companies, and nothing compares to how professional Chicago Helicopter Experience is. Not only is their fleet spotless, but so is their facility. Plus, their staff is superb.
I'm especially impressed with the entire process from walking into their customer experience center as they go above and beyond to create the most amazing experiences for each and every guest that walks through their doors.
You're greeted with a friendly smile and a welcome at their front desk, then your weight is discreetly measured by a square, metal, nondescript scale on the floor. Don't worry your weight is confidential and can only been seen by the team member assisting you. It is needed to weight and balance the aircraft. Once you leave their desk, you can place any items you may want to keep on the ground in their free private lockers.
After checking in you can browse their merchandise shop with plenty of Chicago souvenirs and Chicago Helicopter Experience apparel. My two favorite shirts in their store say 'Get to the Choppa' and 'Ready for a Heli Good Time?'
Once shopping is completed, you can step into a separate room, that looks like a museum, with interesting Chicago-themed facts and photos. They also have an up-close look at a helicopter engine and a helicopter ride simulator experience you can try. After exiting the 'museum', you can play baggo, pose on their fun, floral, logoed backdrop and enjoy the views out the window to their helipad.
Before your flight you'll go through a safety briefing in a room with seats that are arranged like the inside of your helicopter. You'll sit in your assigned seat, buckle up your seatbelt and watch a brief video on all the safety procedures. I was thoroughly impressed with the way CHE conducts their safety briefings.
When you've completed your safety briefing, you are then escorted outside to the helipad where you pose for a photo and are led into the helicopter by their staff to buckle-up and to put on your premium Bose A20 Aviation Headset. I use these headsets when flight training and they are seriously the best.
This next part is so exciting because you're about to embark on a visual journey unlike any other. Time for liftoff! Since CHE is located south of the Loop, after embarking on your adventure, you travel eastward between the skyline and the Guaranteed Rate Field, you then fly over Lake Michigan and turn northward to see the stunning skyline where you'll pass by Soldier Field, the Field Museum, Buckingham Fountain, Navy Pier and more. Halfway through, your pilot makes a subtle U-turn in the sky where you'll get a second look at at the great highlights of the city below you going southward. Take a look at the map below for all the places you'll see.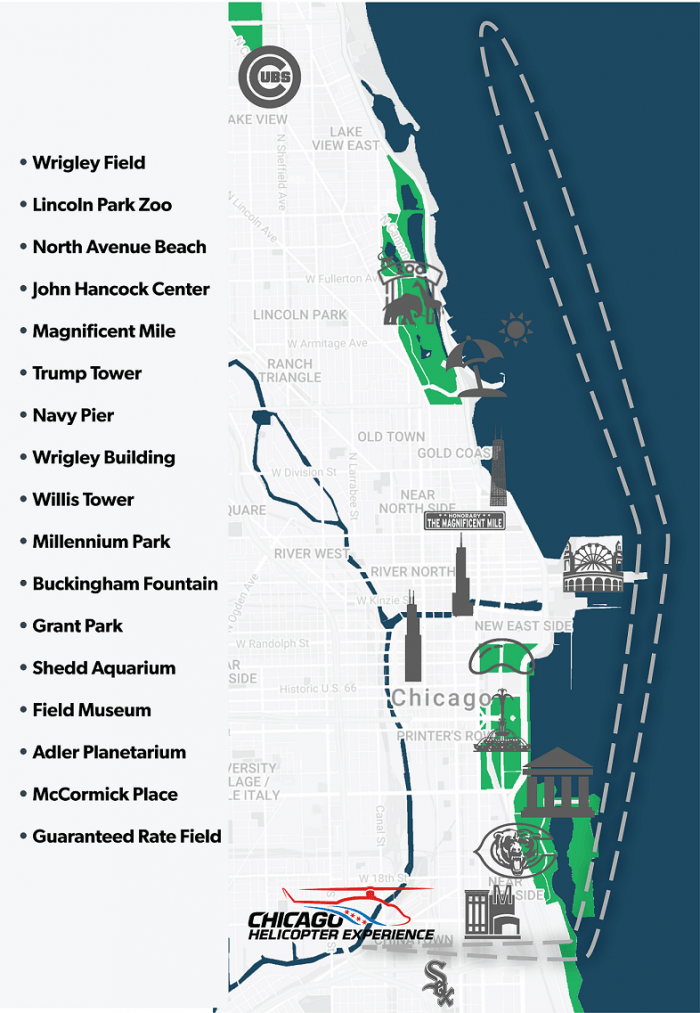 Upon landing, you'll be guided back inside the customer experience center and given your souvenir photo. This experience was phenomenal and I'm so thankful for the opportunity to see this spectacular city with Chicago Helicopter Experience.
To date, they have flown more than 60,000 experiences above Chicago – and they're just getting started.
"Once you have tasted flight, you will forever walk the earth with your eyes turned skyward, for there you have been, and there you will always long to return." ― Leonardo da Vinci
Check out Chicago Helicopter Experience's special offers and packages below!
FATHER'S DAY
Take Father's Day to new heights this year when you give dad the experience of a lifetime! Fly with Dad this Father's Day or gift him a voucher and he can schedule his flight whenever he is ready. Chicago Helicopter Experience is currently running a Father's Day special from now through Father's Day –a two passenger experience for $199 (regularly $356).
GOO GOO DOLLS AND GAVIN DEGRAW CONCERT
Chicago Helicopter Experience has an exclusive VIP package that will get you to and from the concert on July 14th at Arramore Farms and Polo Grounds in Oswego, Illinois.  Avoid the hassle of driving, traffic and parking, and let Chicago Helicopter Experience fly you there in style and comfort.  Proceeds from the concert go to Cal's Angels, a pediatric cancer foundation with a mission of granting wishes, raising awareness and funding research to help kids fighting cancer.
GOLF PACKAGES
Git the links at some of the Midwest's most exclusive public and private courses HERE.
Photos below by Janelle Rominski.