Few things are more festive this time of year than a decadent afternoon tea. Crumpets, scones, pastries, delicate savory sandwiches and delectable teas are usually served in a lovely setting of some of the best hotels in town. What would happen when a four-star hotel lobby plays host to an outstanding wine bar? Well, my friends, I do believe that would be the tea service you don't want to miss. Welcome to the Magnificent Mile tea scene, Tea with a Twist at ENO Wine Room inside Hotel InterContinental. Only a few weeks young, this newcomer tea service is definitely noteworthy. Go ahead, get twisted!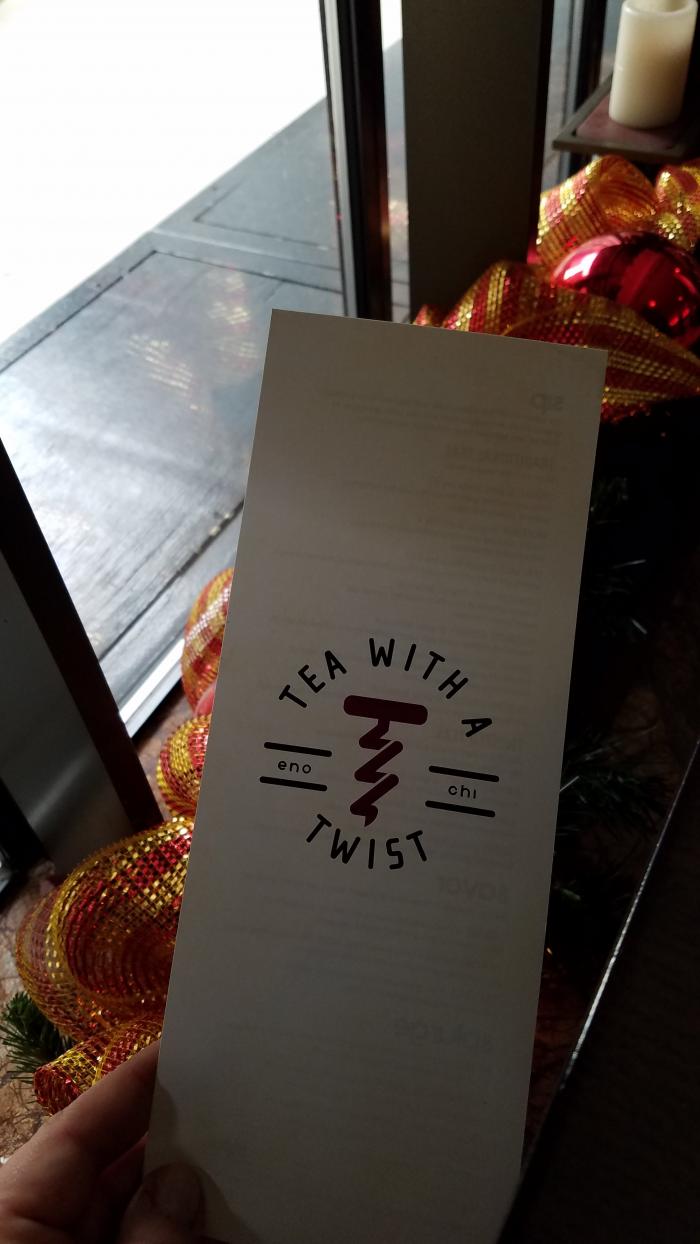 Along with earlier Saturday hours from 1 pm to 4 pm, ENO is showcasing a menu of sommelier-crafted, tea-infused wines as part of this new afternoon service. Guests can also indulge in non-alcoholic, loose leaf blends provided by RISHI™ Tea & Botanicals. Both experiences include a three-tier tower of sweet and savory treats from InterContinental's excellent culinary team. For $39 per person (a bargain!), Tea with a Twist offerss front row view of Chicago's Magnificent Mile and provides its shoppers the perfect afternoon break.
Tea with a Twist offers a menu of seven different loose-leaf blends, including on the day of our visit a lovely Cinnamon Plum and Raspberry green tea, both excellent. For an additional $12, we sampled two of the three wine–infused libations created by ENO's Sommelier Mark Canak. The lively and delicate RASPBERRY BERET features raspberry green tea infused with Cremant de Jura sparkling wine. A WINTER SPRITZ is a chamomile medley tea infused with Vouvray. While we didn't sample it, TOASTY SPICED PLUM, cinnamon plum tea infused with Zinfandel and a touch of brandy, sounded absolutely delicious. We instead opted to start our afternoon tea a la Queen Elizabeth: with a glass of champagne. That is the beauty of having tea in a wine bar, my friends. "You have to find the right balance when infusing wine with tea," Canak says. "The purpose isn't to make one outshine the other but instead enhance both in harmony. It kind of works like wine and cheese pairings. The herbal flavors of tea leaves will naturally subdue the sweet bitters of fermented grapes – if properly balanced."
What would tea service be without a little indulgence! In addition to beverages, a selection of sweet and savory bites is also included in the price of the tea experience. And believe me, you will not leave hungry! A three-tiered tower of treats will occupy a good bit of real estate on your table, like it did ours. And rightfully so. Tier One: artisanal cheeses, seasonal fruit, freshly-baked breads and hand-dipped chocolates. Tier Two: smoked salmon deviled eggs, raclette and swiss chard quiche, ahi tuna with roasted olives, and avocado toast points. Tier Three: a variety of confections including petit fours, macaroons and mini-tartlets. But wait! That's not all! A basket of perfectly flaky scones arrives accompanied by a selection of jams, homemade lemon curd and clotted cream. YUM!
On our visit the service was polished and attentive. It was all we could do not to park ourselves at the window table for the whole afternoon of champagne, tea and people watching. But there is always a next time…
ENO Wine Room is located inside Hotel InterContinental at 505 N. Michigan Ave in the heart of Magnificent Mile.
To make Tea with a Twist reservations, please call (312) 321-8749.
Lead image credit: BCV. The rest of the photos by Gourmet Rambler.
The Local Tourist tea service for two with cocktails compliments of IMR.