My clothing, skin and hair are slick with a garlicky buttery film as I emerge from the tiny storefront on an obscure stretch of Lincoln Avenue. I am in a crustacean induced coma. Garlic aroma is wafting from every fiber of my being. I just got Angry Crabbed, and I am not at all angry about it.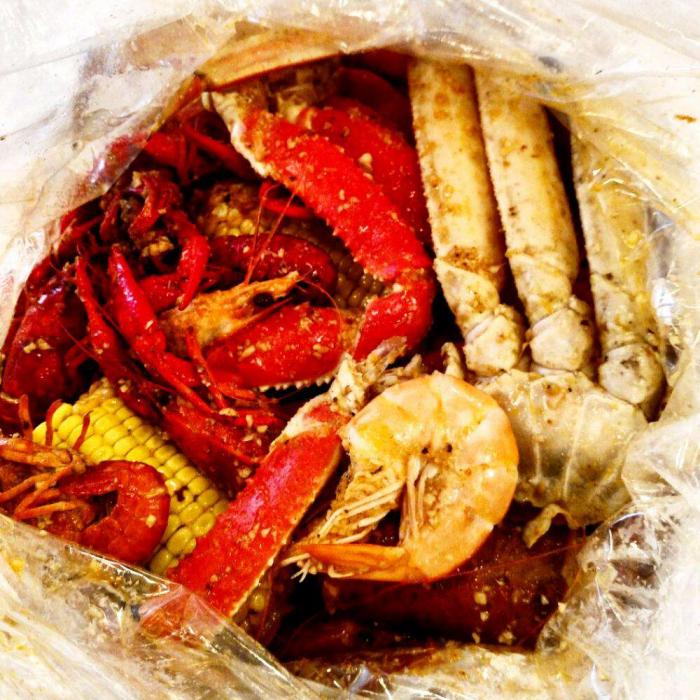 Honestly, what's to be angry about? This Cajun "boiling point" opened quietly and is now serving up finger licking seafood by the pound. It is BYOB, which is always a welcome bonus. And I get to eat with my hands, breaking the shells with my fingers to get at the best morsels. I say, give me the red Solo cup of rose wine and pass the crawfish! I am a huge fan of all things crustacean. And here seafood rules supreme. Order crab, lobster, crawfish and shrimp by the pound. Pick your sauce and spice level (I recommend MANIAC sauce, a mixture of four flavor blends, with a touch of Ferocious Bears spice). Then grab a drink and sit back. Your shellfish dinner will promptly appear in front of you, served in a jumbo plastic bag bursting with chilies and garlic and butter. The only things between your clothes and your dinner here are a roll of paper towels and a thin plastic bib. Admit it, you ALWAYS wanted to dine in a bib. Butter mist hangs in the air here permanently, but who couldn't use a butter facial?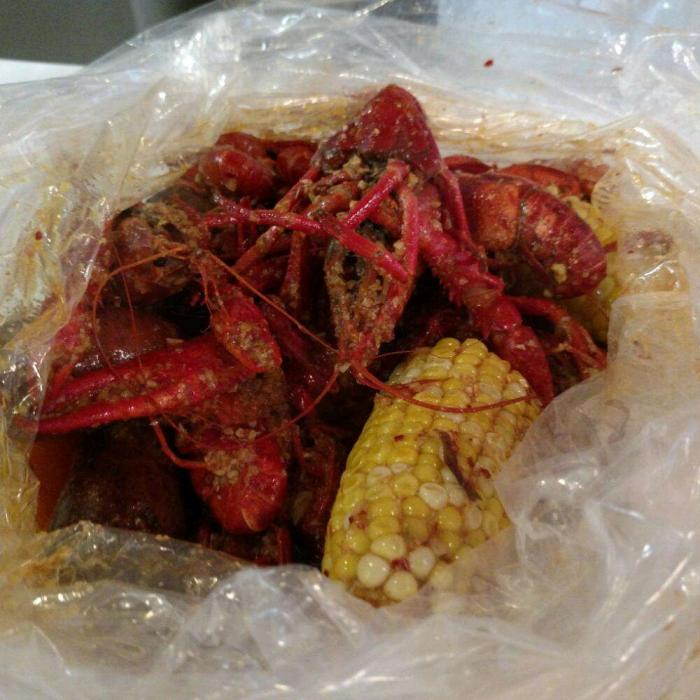 Seafood here is priced fairly. Everything is fresh: plump shrimp are taut, crawfish firm and sweet, crab and lobster succulent. My dinner consisted of a pound each of crawdads, snow crab and head-on shrimp. Deliciously messy affair! You can order up your critters "dirty", creating your own Louisiana style seafood boil by adding andouille sausage, corn and potatoes. There also fresh oysters on the half shell (Kusshi on my visit), jumbo mussels and steamed clams. All are things worth getting your name on the obligatory waiting list. Let's face it, we are not alone in our love of all things shellfish. Bring an extra drink or three to wait with.
When it is all said and done, I require an industrial strength shower and an immediate load of laundry. In fact, my purse is still faintly redolent of butter and garlic and chilies. But I don't mind. The experience is well worth the price. Though next time I will leave purse and jacket behind in the trunk of my car before entering through the buttery veil. I will come back with a group, so that we can try more flavor combinations. The tables are communal here, covered in clean white paper before each new seating. The service can be spotty, but it is always with a smile. All in all, there is absolutely nothing that will make you angry at Angry Crab. Eating yourself into a blissful shellfish coma? Well, that's a different story entirely.
The Angry Crab is located at 5665 N. Lincoln. However, their second location will soon open in Wicker Park at 1308 N. Milwaukee. Reservations are not accepted and waits at peak times can be lengthy. BYOB.
All photos by Gourmet Rambler.