As I walked up to the brand new high rise at 233 N. Canal that is the home to Gibsons Italia, there were two shiny Ferraris in front of the entrance to the restaurant and I thought, "well, this is going to be over the top."
And it was, in all the best ways. I was handed a glass of prosecco at the host stand, even before taking the elevator to the first of Gibsons Italia's glorious three floors. The latest offering from Gibsons Restaurant Group in 12 years, the restaurant was filled with Chicago's glitterati. Heavy passed appetizers included lambchop lollipops and filet sliders with Manhattans and sparkling rosé spritzers to wash them down. Oyster girls wandered around the room. This is a thing. Oyster girls from Oysters XO: "The Oyster Chefs dress in tailored-to-the-event outfits and mingle with the guests, shucking and serving tasty oysters from the buckets around their waist."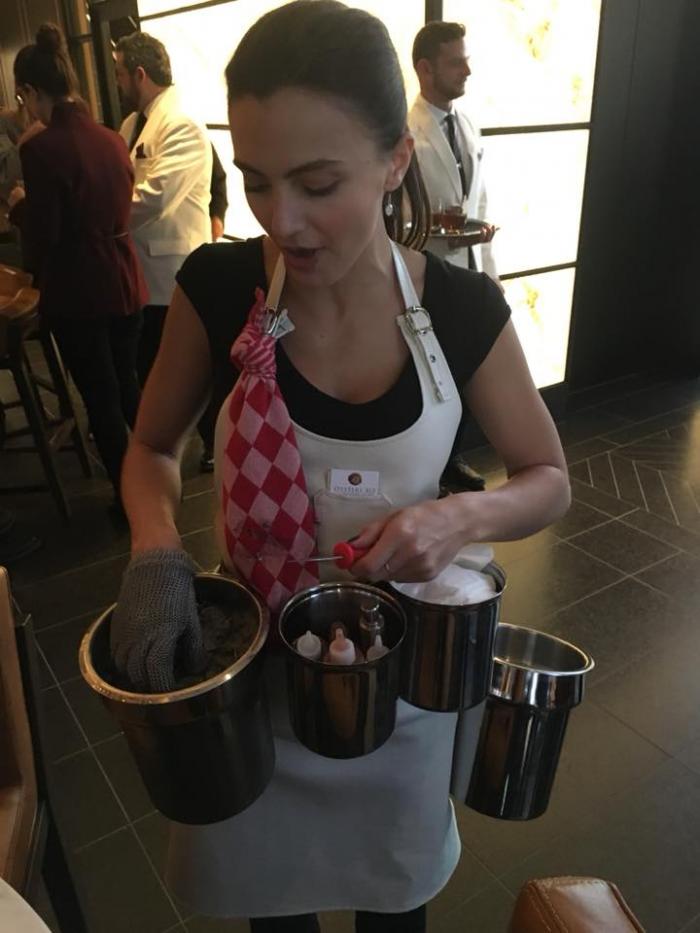 Oysters will be on the menu, of course. (The Oyster Girls will not be, they were just there for the party.) Along with the classic steaks that Gibsons is lauded for and the pasta that they will soon be known for. "Extruded pasta" according to the t-shirts worn by the bar backs and passed out as swag as we left. "Extrusion" is a process used to create objects of a fixed cross-sectional profile. A material is pushed through a die of the desired cross-section. In this case, pasta. The walls are decorated with pasta making tools…ravioli stamps, tagliatelle cutters and gnocchi boards…behind glass. Every inch of the space has been carefully curated to reflect the city, the food, the heritage. Even the wallpaper in the ladies' room is adorned with Chicago's best-known landmarks, some of which can be seen from the restaurant.
Let's talk about the view. Oh, that glorious view. The restaurant opens to overlook the Chicago River where it splits into two branches. Looking east, Chicago's iconic buildings are lined up: Merchandise Mart, the Nuveen Building, Marina Towers —lights sparkling like they were strung up just for this opening.
You can see the view from each of Gibsons Italia's three levels. The first floor holds the bar and lounge area. Hightop marble tables with lush leather chairs. Cozy couches nestled between the floor to ceiling windows and the fireplace. The second floor houses the main dining room. Gorgeous banquettes and tables surrounded by grey leather chairs modeled after chairs found at Enzo Ferrari's offices, a nod to the restaurant's Italian roots. Now the Ferraris parked out front made a little more sense: luxury with connection. The top level of the restaurant is the rooftop bar with a retractable roof in the event of inclement weather and it has "Chicago's Next Hot Spot" written all over it. The roof deck and the private dining room are available for private parties and special events.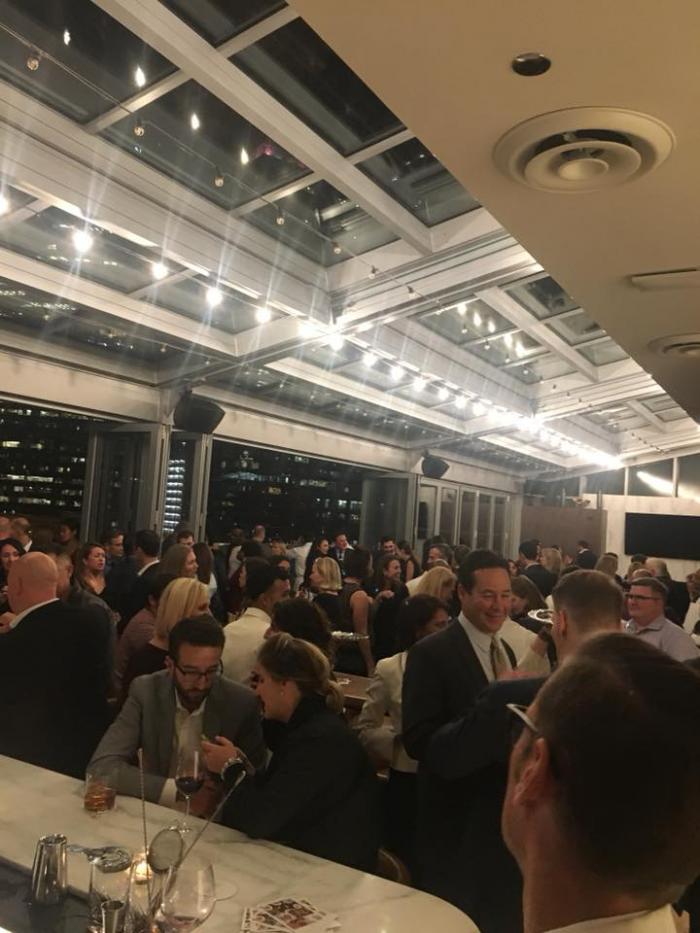 Make your reservations with Margaret Rodriguez at 786-213-5700. Gibsons Italia is scheduled to open on October 23, 2017. (Gibsons Italia, 233 N. Canal St, Chicago, www.gibsonsitalia.com)