"Hidden gem" is an epically over-used phrase, especially when said gem is a restaurant. It's a shorthand trope for a place that's pretty darn awesome, but very few people seem to know about it. It isn't a hot spot – but it should be. It's worthy of all the buzz and accolades and "must go" round-ups, and while it probably gets some press, it doesn't receive nearly as much as is deserved. Unfortunately, the phrase is used so often, it's nearly meaningless.
Unless that hidden gem is El Tapeo.
The restaurant is actually hidden, located on the ninth floor of Le Méridien Chicago – Oakbrook Center. If you're not staying at the hotel, you might never know it's there. A couple of attendees at our Chef's Table event work in the area and had not heard of it. That is, of course, why I host these events: to shine the spotlight on restaurants like El Tapeo that offer dining excellence through delicious cuisine, a thoughtful beverage program, and attentive service.
When we sat down for our Chef's Table event, the sun was beginning to set through the floor to ceiling windows. Glasses sparkled, candles flickered, and the murmur of conversation filled the room. We'd already seen the highly anticipated menu and couldn't wait to begin.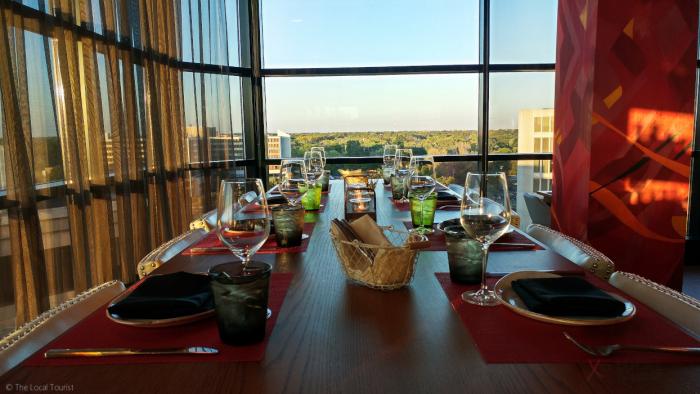 Our first bite was a pintxo of olive oil sphere with black truffle, served with Off Color Troublesome Gose. It tasted like an olive right out of the jar with a hint of earth from the truffle.
Next was a trio of tapas. I love the tradition of Spanish small plates, and these three dishes were a perfect example of why. They're so rich and filling you don't need many (although you want more. Oh yes, you want more.) These three are worth a visit alone: stuffed bacon-wrapped dates, cremini mushroom fritters with cilantro yogurt, and lamb and bacon meatballs in a sherry tomato sauce.
The tapas were paired with a PX Daiquiri, a twist on the classic drink made with Hamilton's Navy Strength Rum (yowza), Lustau Pedro Ximenez sherry, lime, and honey. 
Our next course was a seasonal squash soup with pomegranate, pepitas, candied ginger, and sour cream and OH MY WORD I wanted to lick the bottom of the glass, but since I was hosting I figured that would be unseemly. This was paired with Terras do Cigarron Godello, a stainless steel fermented white wine that was intense enough to stand up to the rich soup.
The entire room oohed and aahed when the pork chop tomahawk was placed on the tables. A cut that's typically associated with beef, these juicy, flavorful chops were served with baconed Brussels sprouts and a mushroom stew, and paired with Alto Moncayo "Veraton," a Garnacha from northern Spain. 
Are you full yet? Well, I hope you've saved room, because there are still more courses. The final savory course was Paella de Diablo, a colorful and flamboyant dish of spicy chorizo, shrimp, chicken, peas, peppers, onions, saffron rice, and spicy aioli. It was beautiful. It was delicious. I want more.
TLTip: Every Friday night, El Tapeo hosts Paella Night. Endless Paella of the Chef's Choice will be available for $18 per person from 5 p.m. until 9 p.m. 
A glass of Losada Vinos de Finca from Bierzo, Spain, cooled things down. The white is aged in French oak barrels, giving it a warmer mouth feel without the buttery slickness you get from wines that use malolactic processing. It, like all of the other beverage pairings, was a perfect match.
Our final, final course was Spiced Catalana, a flan made with bourbon caramel apples and served with cinnamon nuts. I'm not a fan of flan, but this? I was ready to fight for it. That's my new name for it. "Fight you for it Flan." It was served with a 1986 Bodegas Toro Albala, a rich, sweet-but-not-too-sweet, and absolutely delicious Don Pedro Ximenez Sherry. (No pictures of the sherry, because I was in an El Tapeo Coma by this point.)
El Tapeo is a hidden gem that shouldn't be. It's a restaurant that deserves to be visited on a regular basis, for date night, girls night, tapas night – any night at all. From Elmer at the door, to Eddie behind the bar, to Executive Chef Matthew Cappellini in the kitchen and Joe in the dining room tying it all together, El Tapeo is a gem from start-to-finish, and it deserves all the spotlights we can shine. 
---
El Tapeo is located at 2100 Spring Road, Oak Brook, Illinois, on the 9th floor of Le Méridien Chicago. Regular hours for the restaurant are 5 p.m. to 10 p.m. Monday through Thursday, and 5 p.m. to 11 p.m. on Friday and Saturday. The lounge is open from 4 p.m. to 12 a.m. Monday through Thursday, and 4 p.m. to 1 a.m. on Friday and Saturday, offering happy hour Monday through Friday from 4p.m. to 6p.m. For reservations or additional information, please call 630.828.2044 or visit www.eltapeorestaurant.com.