Heading to the drive in movie theater is the stuff of which summer memories are made.
There's something enticing about watching a movie from the comfort of your car as the soundtrack is broadcast through your own personal sound system.
If you're a new parent, you can actually take your baby to the movies and not worry about disturbing anyone else. And while bench seats are no longer the norm, taking your date to the drive-in still makes for a romantic night.
If you want to see drive in movies, you've now got a few choices. McHenry Outdoor Theater offers double features of family-friendly movies. Here's everything you need to know about a night at the drive in. 
Related: find more things to do in Chicago
Things to know before visiting Drive In Movie Theaters:
When you're not in your car, you're required to wear a mask.
The audio is broadcast through FM radio, so make sure yours is working. If it isn't, you'll need to bring a portable radio
Sitting on the roof of your car isn't allowed.
Nor is popping the hatch above the roof of your vehicle. Both block other viewers and that's just not cool.
You can, however, bring snacks.
But you don't have to, because all of the theaters are offering concessions.
Movies are shown rain or shine.
No spot saving!
No booze or drugs. (Duh.)
Get there early to make sure you get the best spot.
Drive-In Movie Theater Chicago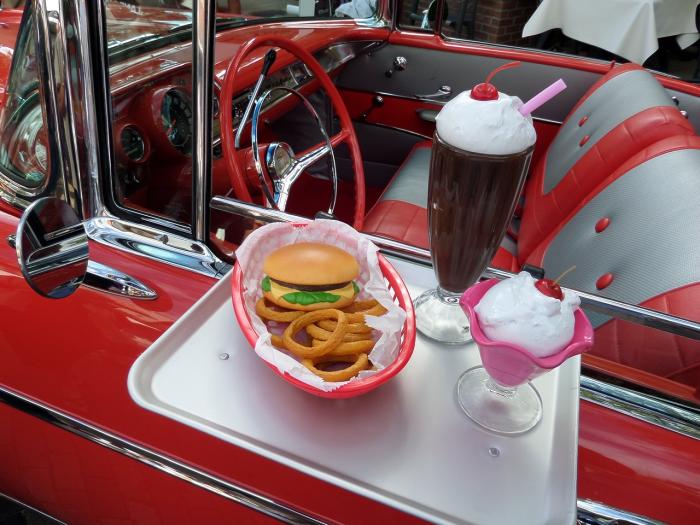 Bridgeview Drive-in
7000 S Harlem Ave, Bridgeview, IL, chicagodrivein.com
How much: $30 general, $50 preferred (better viewing)
Tickets are priced per vehicle. You can bring two chairs if you want to sit outside.
ChiTown Movies
2343 S Throop St, Chicago, IL chitownmovies.com
How much: $33 per vehicle, up to five adults. $5 extra for each additional adult.
ChiTown Futbol is now showing movies in their parking lot. They'll give you an assigned spot that will be six feet away from any other vehicle.
Hoffman Estates Drive-in
Sears Centre Arena, 5333 Prairie Stone Pkwy, Hoffman Estates, IL searscentre.com
How much: $30 general, $50 preferred (better viewing)
Run by the same company that opened Bridgeview Drive-in, they also sell tickets per vehicle and allow two chairs.
Lincoln Yards Pop-up Drive In
Lincoln Yards, 1397 W Wabansia Ave, Chicago, IL davistheater.com
How much: $35 + taxes and fees per vehicle. 6 person limit.
Hosted by the Davis Theater, this pop-up drive in movie theater has a blow-up screen. They're making sure there's plenty of space with a ten foot bubble around each car. There are some concessions on-site, and you can order additional items from Ada Street.
McHenry Outdoor Theatre
1510 Chapel Hill Rd, McHenry, IL (847)362-3011, goldenagecinemas.com
How much: $12 adult, $6 child, free for ages 3 and under
For over sixty years this theater has been showing movies in the great outdoors. Tickets are priced per person. No seating is allowed outside of your car.
---
An evening at the drive-in is a fun escape for dates, friends, and families. If you've got any tips for visiting the drive-in, or some favorite memories, please share in the comments!