What happens to dinner-and-a-movie when it grows up? I think that the answer to that question is CMX VIP Cinema Experience paired with CMX CinéBistro, a luxury dinner-and-a-movie concept in residence at Old Orchard Mall in suburban Skokie.
Don't forget your IDs, folks. This movie theater is for those over 21.
And while there is also a CMX all-ages theater just around the corner, I would be thrilled to take in a few flicks at this sophisticated establishment. Adult guests looking for a VIP dinner-and-a-movie are welcomed to this relaunched CMX CinéBistro location, offering a high-end experience.
With 40,870 sq. feet of theater space, CMX CinéBistro features six viewing rooms with 405 seats and the most updated audiovisual technology, including a theater equipped with a full Dolby Atmos sound system and 4K projection systems allowing for a transcendent viewing experience of every film.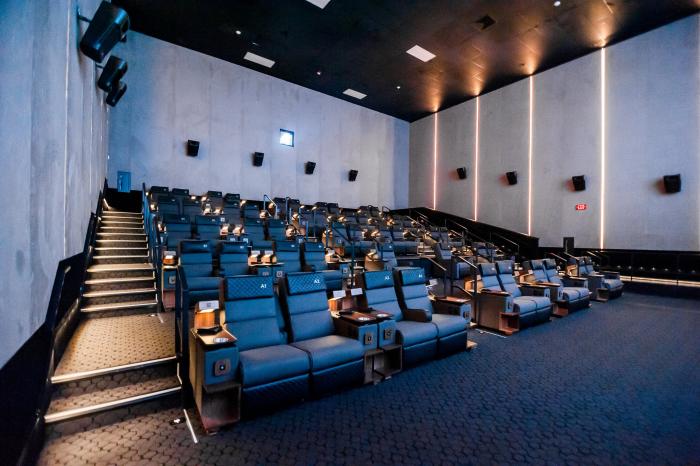 The CMX CinéBistro location also features the trendy Stone Sports Bar, an upscale lounge surrounded with the latest technology in largescale LED screens.
With a fully stocked bar, guests can enjoy hand-crafted cocktails and a wide assortment of on-tap beers, in addition to sampling the delicious entrees and appetizers offered on the expansive gourmet menu.
At CMX CinéBistro, movie-goers can enjoy full-service gourmet in-seat dining. They will have the opportunity to order meals in advance or while at the theater, where orders are discreetly brought directly to the guest's chosen seat.
Each chair also includes a dim LED light, a convenient USB outlet and storage compartments for purses and shopping bags in addition to a service staff call button for any additional requests.
It is recommended that guests arrive 30 minutes prior to showtime to place their orders to minimize disruption to the viewing of the film. Now, this is what I call a movie theater!
Recently I was invited to taste through the new seasonal CinéBistro menu. And let me tell ya, this was the fanciest meal I was ever offered inside a movie theater.
Creative and unusual dishes here would be something I would order at an upscale gastropub. According to the chef, that is exactly what they are aiming for: a fresh seasonal take on an American gastropub.
Burgers and sliders are prominently placed on the menu, but they are not alone. How about crispy addictive Buffalo cauliflower "wings"? Or sweet and savory medley of fried chicken and churros? Perfectly cooked New York strip steak goes well with any movie, if you ask me.
But on the lighter side there is a beautiful salad of goat cheese, greens and toasted quinoa. Pan roasted salmon makes an appearance, pink and glistening, cooked perfectly. Craving more fish? Crispy cod tacos with jicama slaw might do the trick.
And for the sweet tooth in all of us: chocolate donut bread pudding. And yes, before you ask, we sampled them all.
So, here is the truth, folks: next time I go to the movies, CMX CinéBistro is where I am headed. Because they are not kidding when they call it a VIP Cinema Experience.
Who doesn't want to be treated like a VIP? Dinner-and-a-movie, all grown up. Yes, please.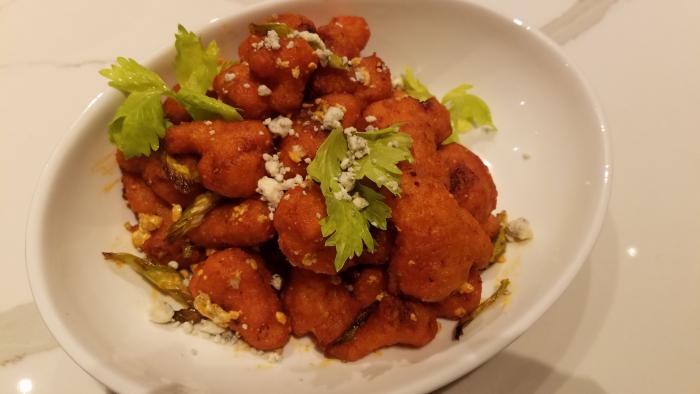 Prices:
▪ Adult: $13.00 weekday evening/$10.00 matinee
▪ Senior: $13.00 weekdays
▪ Adult: $16.00 weekend evening/$12.00 matinee
▪ Senior/Military: $12.00
▪ Tempting Tuesdays – $10.00 movie tickets all day
*Some specialty movie prices vary.
**Tempting Tuesdays also offer a $20 three-course CinéBistro dinner.
CMX CinéBistro is located at Westfield Old Orchard in Skokie, IL.
The Local Tourist menu tasting invitation for two courtesy of Carol Fox and Associates.
Photos: CMX CinéBistro & Gourmet Rambler