Lyric Opera of Chicago is such an institution that it seems its existence has always been a given. But just like the Chicago Symphony Orchestra and the Field Museum surmounted multiple difficulties in their early years, establishing a permanent opera company was no easy task. And since this was opera, its drama was on an even grander scale, almost Wagnerian in scope.
Chicago wanted opera. With the popularity of the Grand Opera Festival in 1885, Ferdinand Peck confirmed that desire. He hired Adler and Sullivan to build an amazing, acoustically perfect theater, even though the city had no company of its own and had to rely on traveling productions to get its fix.
The Auditorium opened in 1899, providing Chicago with its very own opera house – yet it still had to wait for the Metropolitan Opera and, later, the Manhattan Opera Company to visit from New York. 
That was a wholly unacceptable situation to Chicago Evening Post music critic Karleton Hackett. In early 1909, he began making noise that Chicago needed its own opera company. He appealed to the city's civic pride, of which it had plenty to spare, pointing to the Chicago Symphony and its Orchestra Hall as an example of what Chicago could do when it decided it wanted something. Karleton's publisher, John Shaffer, agreed with him.
John not only agreed, he jumped right in. While Karleton appealed to the public through his writing, John began chatting up his fellow men of means.
It didn't take long before Oscar Hammerstein (not the famous lyricist, but his grandfather), the cigar-making founder of the Manhattan Opera Company, expressed interest in helping Chicago get its opera. He'd already created a successful competitor to the powerful Met. He told John it would cost about half a million dollars to start a company in Chicago.
John said he'd raise it, on the condition that there be a seven-member board of directors, three of whom had to be Chicagoans.
Why, of all the nerve. In How Grand Opera Came to Chicago, C. J. Bulliet recounted:
"Mr. Hammerstein 'almost flew into a rage,' … and informed the Chicago publisher that he never had had any directors, and that he managed his businesses alone. He would not consider for a moment, he said, having anybody from Chicago on a board of directors for a Chicago opera."
John wasn't about to put his city's opera in the hands of someone like that. The next day, the Met's Otto Kahn sent John a cablegram claiming he could guarantee Chicago a first-class opera company in a modern theater.
On Otto's word—he was the director of the Metropolitan Opera, after all—John reached out to forty-nine wealthy men, and every single one pledged the requested $5,000. Then he met with Otto and his connections in New York and they secured another $235,000.
Although Otto had suggested a new theater in his cablegram, the two decided that they'd use the one they had. Not only was the Auditorium beautiful and acoustically perfect, renting it would have the added bonus of preventing Oscar Hammerstein from being able to bring his company to Chicago and compete the way he did in New York. All they had to do was pay $100,000 to secure the lease. Otto wrote a check.
Chicago had gotten its opera from New York, and now it would get its opera company because of New York. The Chicago Tribune announced the good news on November 4, 1909, and on November 3, 1910, Chicago Grand Opera Company opened its first season with Verdi's Aida.
In the first few years there were some minor disagreements that made the papers, but trouble was brewing and it came to a head in 1913 when Andreas Dippel, general manager and artistic director, quit. Despite much protestation from Andreas and from Cleofante Campanini, the general music director, that everything was fine, the consensus was that the two got in a feud.
With the support of Harold McCormick, president of the Chicago Opera Company, Cleofante assumed control of the orchestra as well as the opera company—and was the business manager to boot.
Later it came out that Mrs. Edith Rockefeller McCormick, Harold's wife, offered to pay any deficit that might occur as long as Cleofante was in charge.
Well, there was a deficit alright. The company lost a quarter million dollars during the 1913 – 1914 season and ended up filing for bankruptcy. Because of that and World War I, there was no season the next year, but the following year the company reformed as the Chicago Opera Association and Harold McCormick was still president and Cleofante was still in charge.
By 1916, John Shaffer was so fed up with this arrangement that he wanted out entirely. There was no board of directors any more and it was "no longer a Chicago grand opera company owned and financed by citizens of Chicago, but a McCormick-Campanini opera company."
Edith moved to Switzerland in 1913 to be treated by and study with Carl Jung, but she and Harold continued to pay the opera company's losses until the couple finally divorced in December 1921 after living apart for eight years. That last year they paid a whopping $600,000.
The future of Chicago's opera company was in the air again, but Samuel Insull was waiting in the wings. In yet another reorganization, the newly-formed Civic Opera Association elected the utilities magnate as its president, General Charles Dawes and Richard Crane Jr. as vice presidents, Charles Hutchinson as treasurer, and Stanley Field as secretary.
They also had a finance committee, which included John Shedd. These were big names in both Chicago's business and cultural philanthropy circles. It seemed like the opera would have firm footing for once, especially since this new board of highly successful businessmen wasn't going to do anything until they'd secured a guarantee of $500,000 per year for five years. They got it, and instead of relying on a handful of rich people, this time they had 2,200 subscribers. The season opened November 12, 1922, with Aida.
The opera still ran at a loss. Samuel's solution was to build the Civic Opera Association its own theater topped with an office building. Rents from those offices would pay for any deficits. He bought a giant site along the south branch of the river and hired architectural favorites Graham, Anderson, Probst and White.
The firm created a building with a tall tower and two wings, a design that maximized rental space while providing ventilation for the large auditorium. The result resembled a throne, and would give rise to speculation that Samuel wanted it that way so he could metaphorically turn his back on the east (despite the fact that New York was the reason Chicago had an opera company in the first place).
The Civic Opera Association christened its new auditorium on November 4, 1929, with a performance of—what else—Aida. It was only six days after the stock market crash that plunged the country into the Great Depression, but that Monday evening opening brought a sense of wonder to the city.
An Associated Press story that appeared around the country said: "On a site where less than a century ago wolves bayed at the moon on the marshy flats along a lonely little stream cutting windswept prairies has appeared this forty-five-story tower of marble, gold, steel and bronze to provide the youthful city by the Inland sea with the world's most luxurious and sophisticated home of song."
In Forty Years of Opera in Chicago, Edward C. Moore described the theater as a rose-colored grotto with the "most scientifically constructed stage in the world."
"Everything was beautiful, everything was spacious, everything was ingenious beyond all telling."
A few weeks after the opening, New York journalist Pierre V. R. Key said of Samuel: "In six years he has transformed a shaky institution into one now entering its fullest estate."
In a couple of years, it would all come crashing down. The Civic Opera Company gave its last performance on January 30, 1932. Samuel's financial house of cards also collapsed, wiping out not only himself, but also hundreds of thousands of shareholders. He resigned from his companies, including Commonwealth Edison and Peoples Gas, and sailed for Europe.
In Paris, he found out he was under investigation so he fled to Greece, which had no extradition treaty. In his absence, both a Cook County and a federal grand jury indicted him. Samuel was arrested in Turkey and jailed in Chicago. He was universally reviled, until in 1934, a jury found him not guilty on all charges.
During this time, in the depths of the Depression, Chicago was still trying to keep its opera dreams alive. Out of the ashes of the Civic Opera Company came the Chicago Grand Opera Company in 1933. Two years later, after the man who'd given them a home was acquitted, what was now the Chicago City Opera company offered him an inscribed key declaring him "the father of grand opera in Chicago." He accepted. On July 16, 1938, Samuel Insull died, penniless, in Paris.
In 1940, Chicago's opera reorganized yet again, calling its sixth iteration the Chicago Opera Company. This version would last for six years, but when it closed, the city wouldn't have a resident opera company for almost a decade.
This time, the company wasn't founded by businessmen. This time, a 28-year-old force of nature named Carol Fox picked up the operatic mantle. Despite training in Europe, her own dreams of performing weren't to be, so she joined with conductor Nicola Rescigno and fellow thwarted musician Lawrence Kelly to bring opera back to the Civic Building's stage.
In 1954, Lyric Theater of Chicago opened with Bellini's Norma, and Maria Callas made her American debut. After some disagreements, Lawrence and Nicola left the next year and founded the Dallas Opera, but Carol stayed, renaming the company one final time to Lyric Opera of Chicago.
Carol resigned in 1980 and was succeeded by her assistant manager, Ardis Krainik, whose leadership brought the company out of financial peril. Since then, Chicago's resident opera has not only survived under the helm of William Mason and then Sir Andrew Davis, it's become one of the premiere companies in the world – and it tends to keep the drama on the stage.
If you enjoyed this story, you'll LOVE Living Landmarks of Chicago. Get your copy today!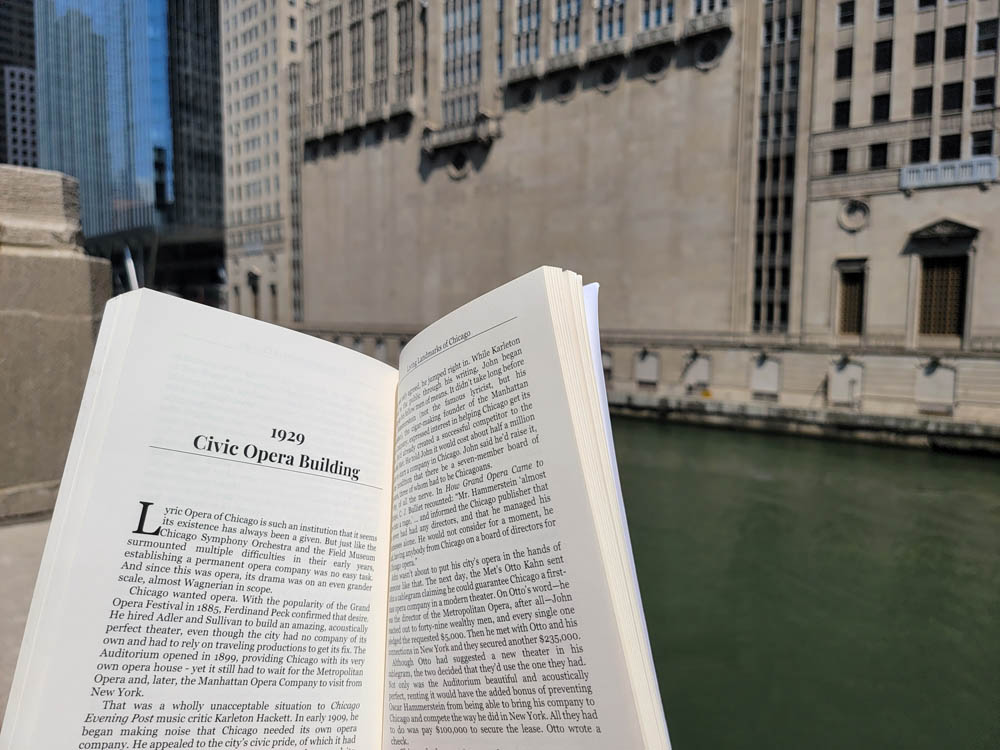 Civic Opera Building Today
The Civic Opera Building remains the home of Lyric Opera of Chicago. In 1993, the company purchased the theater and backstage space and began extensive renovations, including refurbishing the seats for the first time ever. With the theater closed in 2020 – 2021, the company took the opportunity to replace those seats, providing better sightlines and more leg room.
Civic Opera Building, 20 N Upper Wacker Dr; lyricopera.org