Ah, parking in Chicago. The bane of every driver's existence. It's challenging year round, but just wait until winter.
Every winter, in addition to street cleaning schedules, loading zones, and time limits, new parking bans are added to the mix.
If you're driving in Chicago between December 1 and April 1, you'll want to know about these restrictions because the city is serious about enforcing these bans. The last thing anyone needs is to return from shopping or a fun day exploring to find your vehicle is missing.
Here's everything you need to know, including how to avoid the ticket and towing risk altogether.
Chicago Winter Parking Bans
When are the winter parking restrictions?
The parking restrictions begin on December 1 and run through April 1. When these restrictions are in place, you cannot park between 3 am and 7am.
What streets are restricted?
There are over 107 miles of streets with a Winter Overnight Parking Ban. Here's a map from the City of Chicago:
Does it matter if there's snow?
If you park on those streets between 3 am and 7 am, you will get towed, snow or not.
What if it does snow?
If it snows more than 2″, there's an additional 500 miles of streets with restrictions. If you're in one of those spots and there's a heavy snow, your car could be relocated and you could get a ticket.
How do I know if I can't park during winter?
There will be signs posted. If you see any of these signs, don't park there.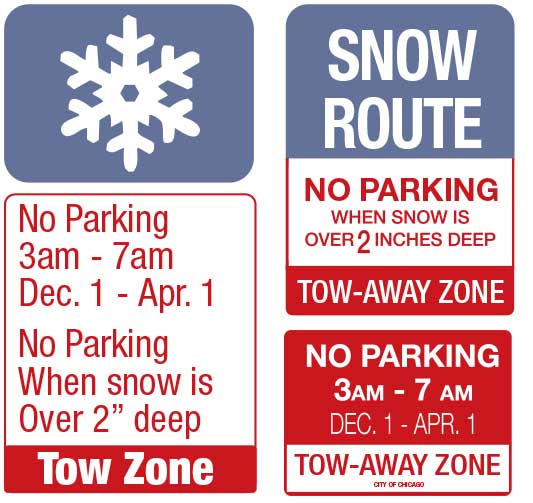 What happens if I park anyway?
Ignore the ban at your own peril. The city of Chicago "vigorously enforces" the ban and your fees will be $150 for towing, $60 for the ticket, and if you can't pick up your vehicle right away, there's a $20 daily storage fee.
Ouch.
Why is Chicago serious about these winter parking bans?
Despite the aggravation these winter parking restrictions cause, they're in place for a good reason. Chicago traffic came to a standstill in 1967 and 1979 due to major snowstorms. By keeping streets open, the snowplows can get through and prevent this from happening again.
My car is gone! Where did it go?
Unfortunately, it's probably been towed. If you think your car has been towed, call 311 or visit cityofchicago.org.
How can I avoid these winter parking bans?
In many of the tourist-heavy parts of the city, you can find parking lots and garages. This is definitely the way to go if you want to avoid being ticketed or towed.
While it can be expensive, you can save money by pre-paying for your parking with Parkwhiz or SpotHero.
Click on Edit below to search for parking.
There you have it! Everything you need to know about Chicago winter parking bans. Make sure you save this for later – it'll come in handy next time you want to park in Chicago during winter.