The Chicago History Museum showcases the city's complicated history and is itself a piece of history.
Chicago has a lively past, with tragedy, innovation, and a cast of characters that could fill (and have) several novels.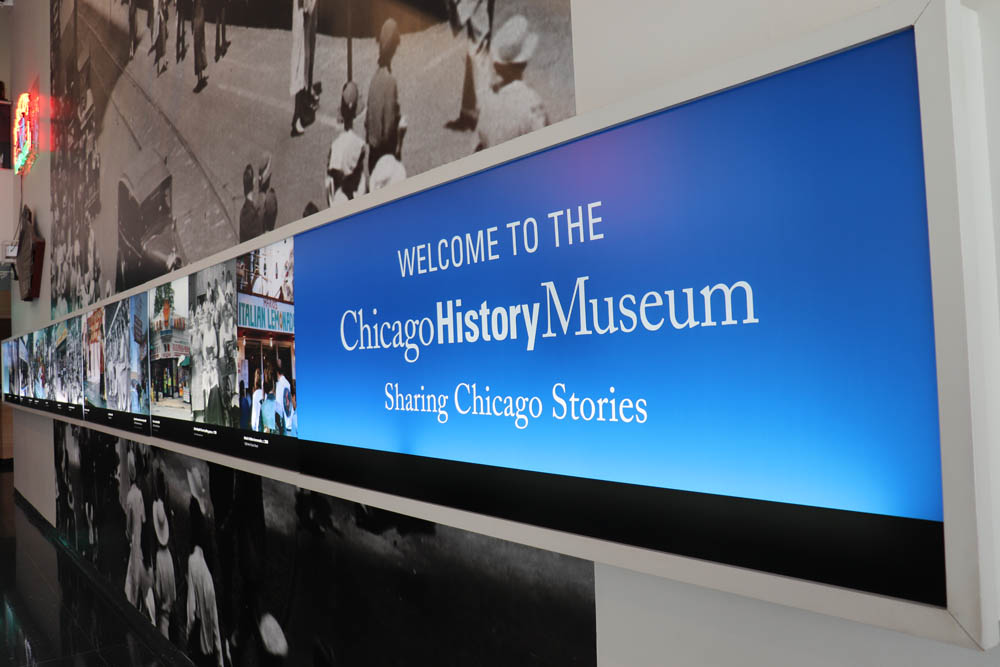 The museum began when Chicago didn't have much history itself. It was founded in 1856 as the Chicago Historical Society and its mission was to preserve, study and interpret Chicago history.
Since the city had only been incorporated since 1837, this was considerably insightful. Unfortunately the original building was located at Dearborn and Ontario, right in the path of the Great Chicago Fire of 1871. To compound that tragedy, the society was the victim of another fire just three years later.
For the next few decades the society was located in a building with a "massive stone edifice" created by Henry Ives Cobb. In 1932 it moved to its current home at North Ave and Clark Street, although there have been several additions and modifications over the years.
Here's an in-depth look into the Chicago History Museum and the many changes it's undergone since beginning in the mid-19th century.
The Story of the Chicago History Museum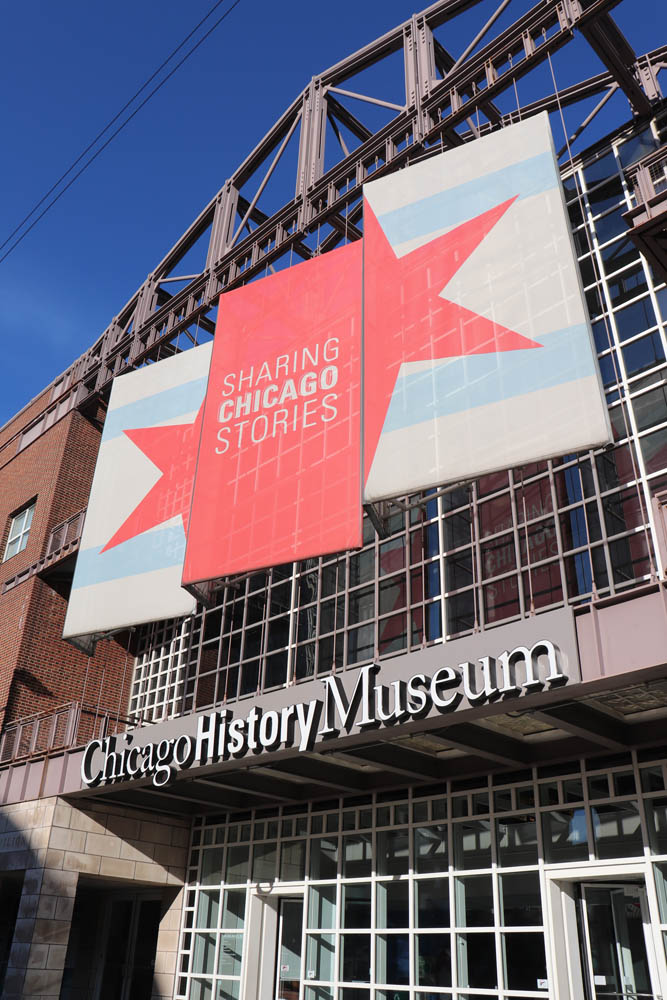 If you approach the Chicago History Museum from the south or the west, it looks pretty modern. It's clad in red brick with a curved wall of glass on the end. But if you approach from the east, you see a tall portico and begin to get a sense that the museum is a piece of history itself.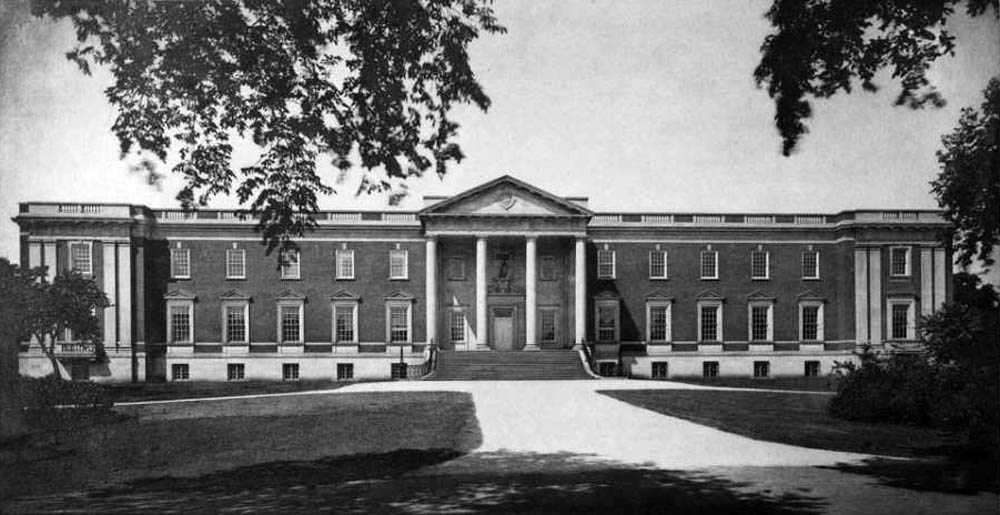 That entrance is to the fourth building erected by the Chicago History Museum, formerly the Chicago Historical Society. Designed by Graham, Anderson, Probst & White in the Federalist style, the Works Progress Administration (WPA) built the museum in exactly one year, from the groundbreaking on May 19, 1931, to move-in on May 19, 1932.
That alone is a cool tidbit of trivia, but there's much more to the Chicago History Museum than super-fast construction.
The museum's story begins in 1856, when Reverend William Barry suggested creating an association to preserve history. Others thought that was a good idea, including the city's first Mayor, William B. Ogden, and they formed the Chicago Historical Society.
The society incorporated in 1857, only twenty years after the city itself incorporated. Since Chicago was so young it didn't have a ton of its own history, yet. That's OK. The charter included the preservation of American history in general and specifically Chicago, Illinois, and the Old Northwest.
At first, the society met and stored their stuff in Walter Loomis Newberry's building at the northwest corner of Wells and Kinzie. They finally got their own building, billed as a perfectly fire-proof structure, at Dearborn and Ontario, in 1868.
According to "A Brief History of the Chicago Historical Society," published by the organization in 1881, by 1868 they'd amassed over 100,000 documents. Their catalog included "nearly complete" records of the "United States Government, in every department, from its organization down to the present time" as well as documents and publications of the Territorial and State Governments of Illinois and laws and legislative records for all of the Colonies.
It also included Abraham Lincoln's final draft of the Emancipation Proclamation. The President had donated the draft to the organizers, all women, of the North-western Soldiers' Fair so they could sell it to raise money for wounded Civil War soldiers.
Sell it they did, for a sum of $3,000, and the Chicago Historical Society added the proclamation to its collections.
On October 8, 1871, that document and every other piece of history collected by the society went up in flames.
Societies from all over the country came to the Chicago Historical Society's aid, donating documents to help them build up their collections again. The New England Genealogical Society even gave them a room in their new fireproof Boston headquarters to hold everything until they could find a safe place.
Mr. J. Young Scammon, one of the founding members of the Chicago Historical Society, provided that space in his offices at 209 North Michigan.
On July 14, 1874, disaster struck again.
Another fire ripped through the city, and although it wasn't nearly as deadly as the fire three years prior, it still destroyed forty-seven acres, burned 812 structures, including eight churches and four hotels, and killed twenty people.
This fire is often skipped over; many of the victims were African-Americans, Jewish immigrants, and prostitutes.
Mr. Scammon's building, containing the historic documents accumulated since the last fire, burned.
For the next few years, the Society slowly gathered historic documents. After two catastrophic losses, the thought of starting over, again, must have been overwhelming.
They continued to hold meetings, take care of any donated materials, and request help from other historical societies, but it wasn't until 1877 that they moved into their second building at Dearborn and Ontario. This temporary structure served them until 1892 when they put everything into storage and laid the cornerstone for their new, permanent, fireproof building.
That building, designed by Henry Ives Cobb, is still one of the most recognizable structures in Chicago's River North neighborhood. Both a Chicago Landmark and a National Historic Landmark, it stands at the corner of Dearborn and Ontario in imposing, Gothic might, covered in granite and topped with gargoyles.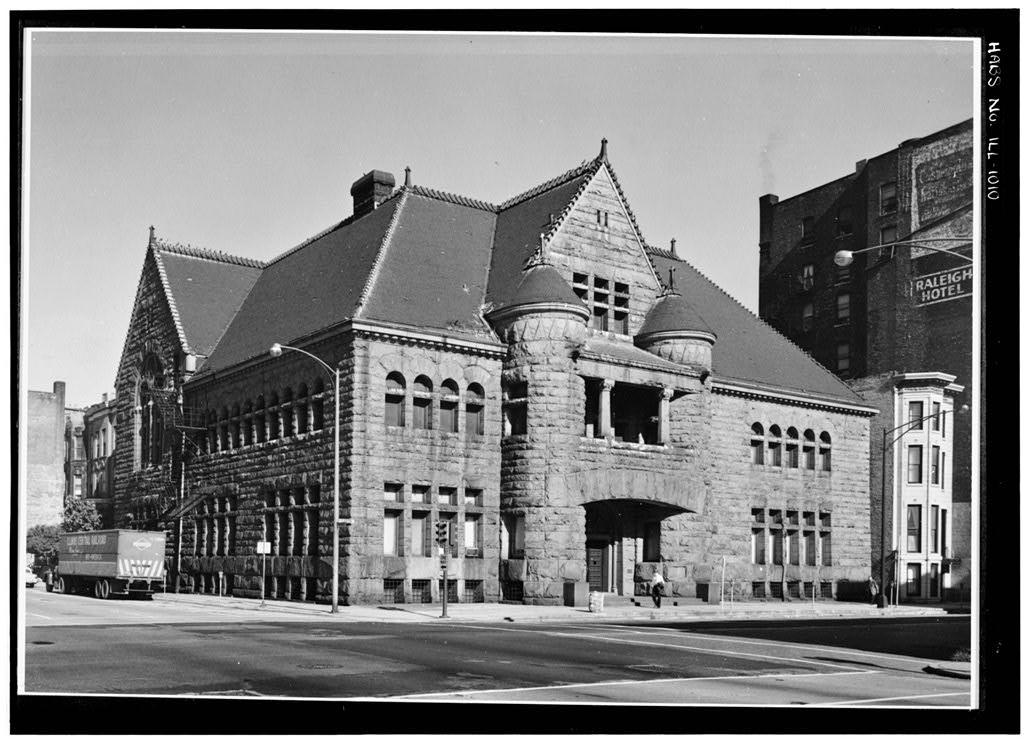 After thirty-two years of acquiring more and more collections, including manuscripts and paintings and George Washington's compass and the bed Lincoln died on, the Society outgrew the Romanesque building and needed a new home.
The unveiling in 1932 revealed one of the most modern museums of its kind. Guests followed the history of America through period rooms, beginning with rooms dedicated to Spanish and French Exploration, British Colonies, Paul Revere's House, Western Exploration, and the Civil War.
There was even a "typical" Chicago parlor of the 1850s, showing what life was like when the Society began.
One of the most popular displays can still be seen. The Chicago Diorama Gallery used electrical buttons to allow visitors to illuminate scenes from the city's past, from its beginnings as a frontier town to the Chicago Fire to the World's Columbian Exposition of 1893.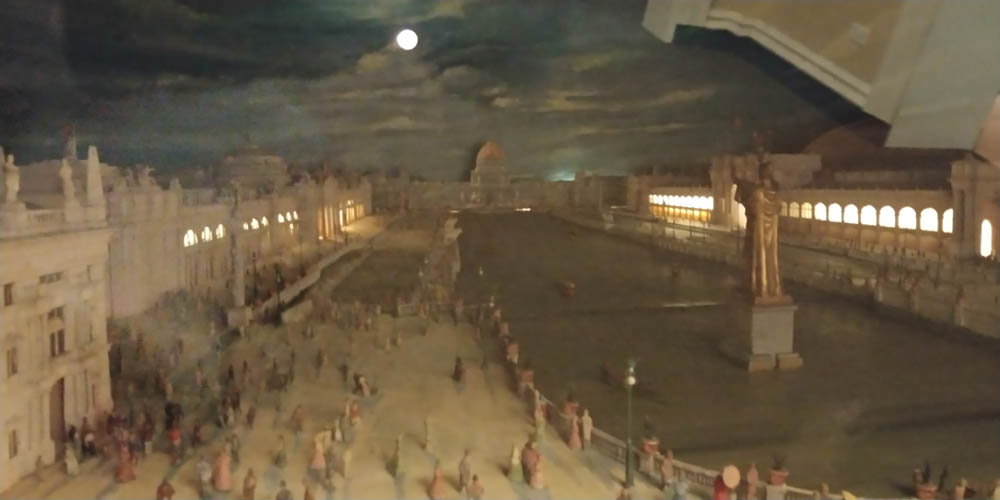 The museum first restored them in 1951, and has repaired and modified the dioramas several times.
Forty years after the move to North and Clark the Chicago Historical Society needed more space, so they hired Alfred Shaw and Associates to design an expansion, which was clad in limestone.
In 1988, Holabird and Roche expanded even more and covered the new portion in red brick to provide a more unified exterior. They also added the curved-glass end that gives the building its more modern experience.
Finally, in 2006, the Chicago Historical Society changed its name to the Chicago History Museum.
The museum recovered rapidly from its early losses, and its collections include approximately 22 million specimens. Since those can't all be displayed at once they often have special exhibits.
This story is featured in Living Landmarks of Chicago, a fascinating book that brings landmarks to life. Get your copy today!
Chicago History Museum Today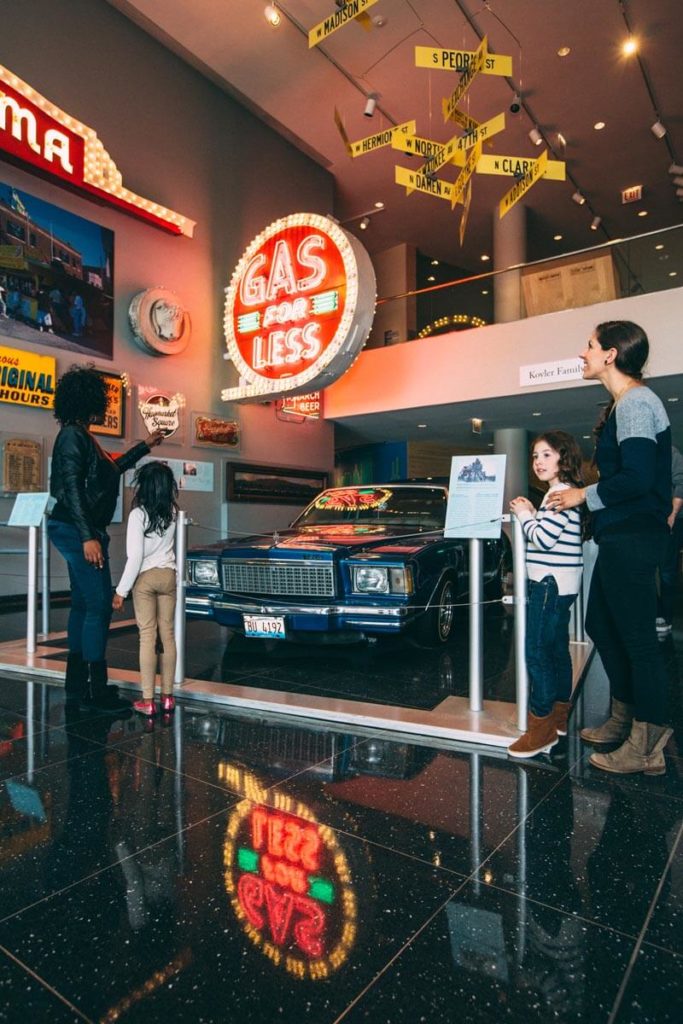 The museum recovered rapidly from its early losses, and its collections boast approximately 22 million specimens. Since those can't all be displayed at once they often have special exhibits.
Imagining Chicago: The Dioramas does dual jobs as both an artifact itself and a look at the city's history through the lenses of 1932 curators.
Related: Find more Chicago attractions and museums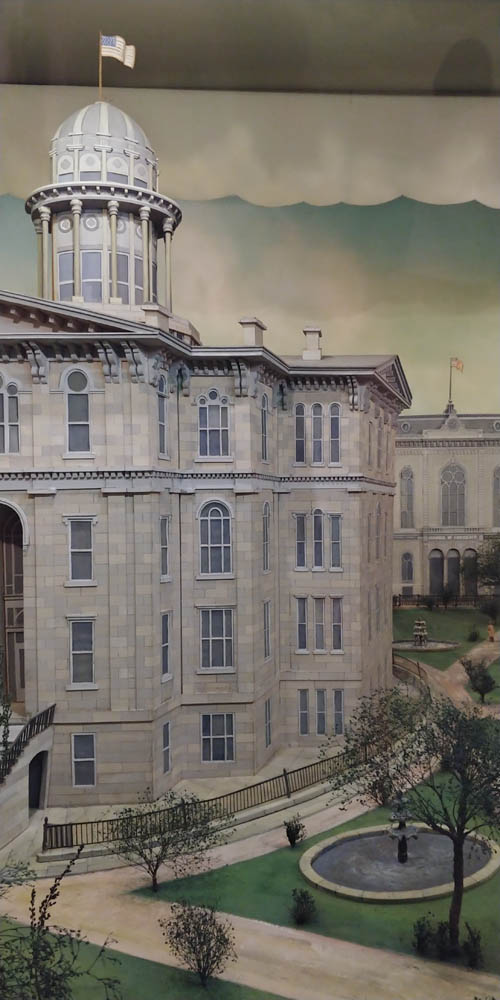 Chicago: Crossroads of America takes you back to the city's roots, beginning with the origin of the name, introducing the first residents, and showing you what Fort Dearborn looked like.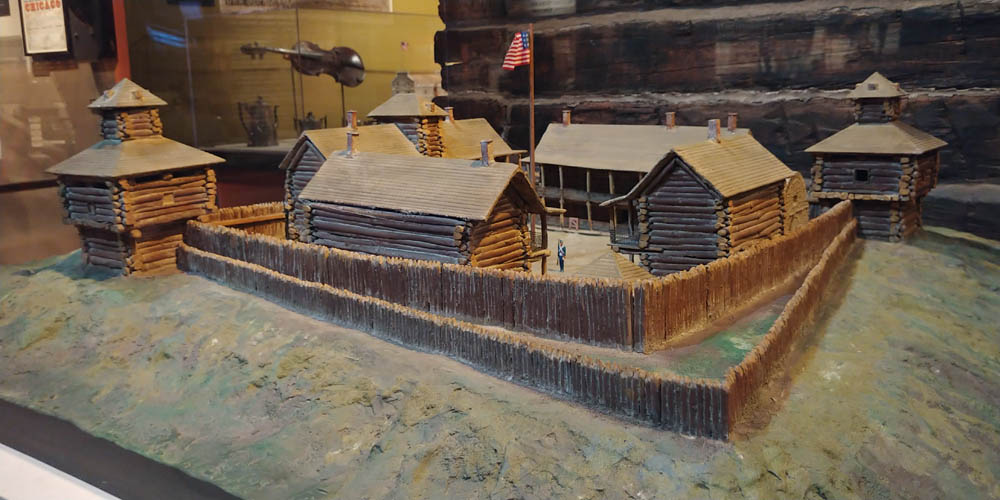 There's even timber from the second fort in the display. The hall also covers Chicago's architectural, societal, industrial, entrepreneurial, and musical highlights and lowlights.
Abraham Lincoln is prominently featured at the Chicago History Museum, with both an exhibit on the man himself, as well as what Chicago would have been like when he came to visit.
There are several online exhibitions. The Great Chicago Fire details what happened before, during, and after the conflagration, and offers suggested walking tours.
Research and history buffs will love the online Encyclopedia of Chicago and Digital Chicago. The Chicago Historical Society, now the Chicago History Museum, continues to expand its collection of documents, maps, manuscripts, prints, photographs, and more, and makes these available to researchers.
The Chicago History Museum does a great job of bringing Chicago's past to life, not just by its exhibits, but also by its events and tours.
They often host family-friendly and dinner events. Their themed tours help you see the city as it would have appeared years ago. Some of their most popular tours are their History Pub Crawls, which give you a dose of the past with your pint.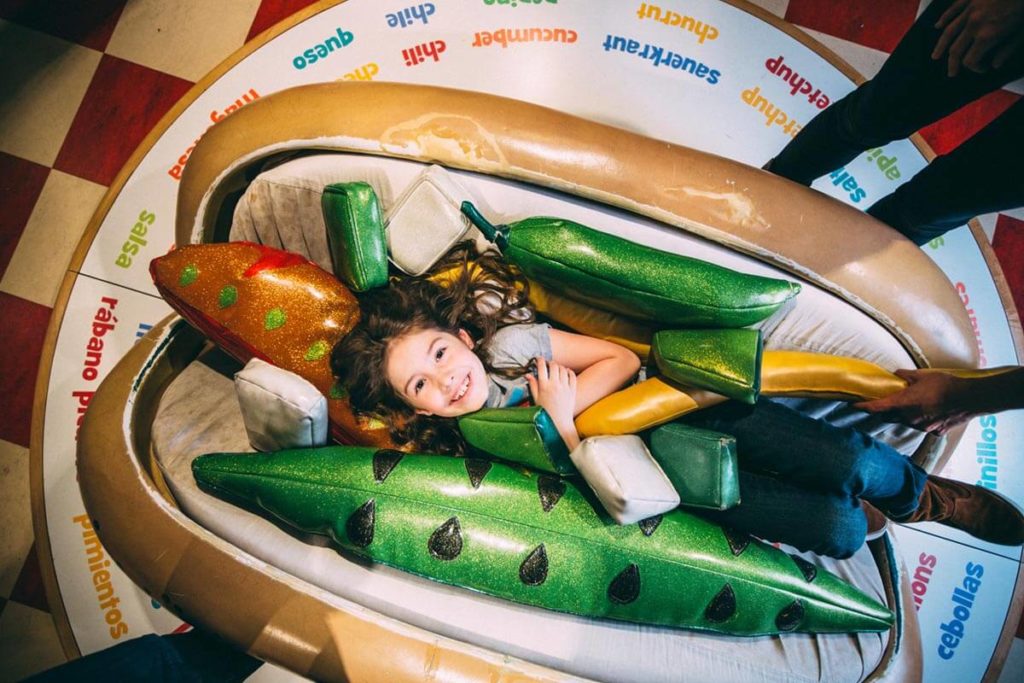 If you're interested in Chicago history at all (which you are, since you're reading this article), a visit to the Chicago History Museum is darn near a requirement.
Chicago History Museum Hours and Admission
The Chicago History Museum is open Tuesday through Saturday from 9:30am to 4:30pm and on Sunday from Noon to 5pm. The museum is closed on Mondays.
Admission is $19 for adults, $17 for students and seniors, and free for children 12 and younger.
Get tickets to the Chicago History Museum
Your admission includes an audio tour, and you'll definitely want to listen to it. It does a great job telling the story of all those pieces of Chicago's past.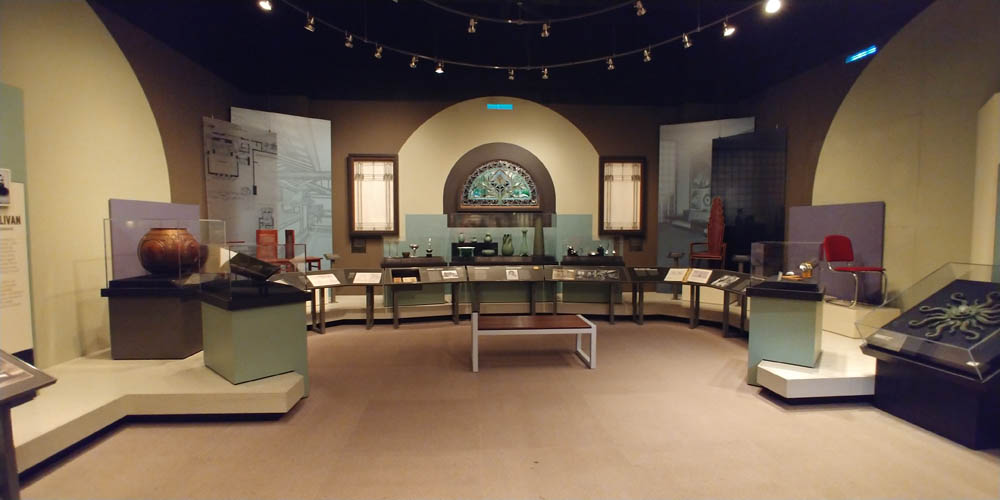 Chicago History Museum Free Days 2022
The Chicago History Museum is free to Illinois residents on the following days in 2022:
January 17
February 1 – 4, 9, 21
March 4
June 19
July 4
August 23 – 26, 30 – 31
October 10
As a Blue Star Museum, admission is free for active duty military from Memorial Day through Labor Day. This includes Army,Navy, Air Force, Coast Guard, Marines, National Guard, and Reserve members, with up to five family members.
The museum is always free for active duty military and all veterans, all active duty Chicago Police and Fire, Illinois teachers, with valid ID.
Click here to find more free days at Chicago museums
Visit ChicagoHistory.org for current events, tours, and other information.