Rev your engines, because it's back! The Chicago Auto Show returns to McCormick Place in Chicago for ten days in February.
As someone who's obsessed with road trips, I look forward to the Chicago Auto Show every year. I see the shiny vehicles and instead of pieces of machinery. I see adventure, possibilities, and the open road.
The Chicago Auto Show is more than a static display of vehicles, although many of them, like the classic Corvette featured below from last year's summer show, can just sit there and look pretty. There are interactive exhibits that make it a full, fun day for friends, family, and any driving enthusiast.
The Chicago Auto Show is an annual must-do tradition. Over the years we've learned a few things about making it as enjoyable as possible.
Here are our top tips for attending the Chicago Auto Show, and everything you need to know before you go, including how to get discounted tickets and save on parking.
Stay where you play! Find a hotel near McCormick Place
7 Tips for Attending the Chicago Auto Show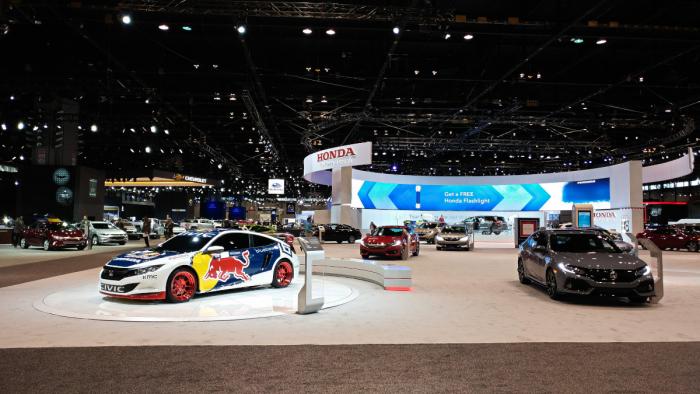 1. Wear comfortable shoes
The Chicago Auto Show is the largest auto show in North America, covering 1.2 million square feet. Be nice to your feet and wear shoes with some decent tread.
2. Get Discounted Admission by feeding others
Bring three cans of food and you'll get a Chicago Auto Show coupon for $5 off a full adult admission. You can bring them on Wednesday, Feb.16, Thursday, Feb. 17 and Friday, Feb. 18.
All food collected will benefit A Safe Haven Foundation. A Safe Haven helps Chicagoans experiencing homelessness become self-sufficient through phased housing, healthy lifestyles, and employment.
3. Take advantage of weekday discounts
Stop by CATA-member new car dealerships to get discounted weekday discounts to the Chicago Auto Show. The show's open until 10pm every day except the final day, when it's open until 8, so even if you have to work during the week you can still take advantage of this offer.
4. Thank you for your service: First Responders / Military Appreciation Day
Are you a first responder or current or former member of the U. S. Military? Attend on February 15 and your ticket is free. Any of your guests will get $5 off adult admission.
First responders include police officers, EMTs, paramedics, and fire fighters.
5. Get Discounted Parking
If you're driving to the auto show, parking at McCormick Place is expensive. Check SpotHero to save on parking in Chicago.
6. Know Before You Go
Check out a map of the show floor ahead of time and plot your course.
7. Relax and Have Fun!
This is probably the most important tip of all. The show is big and boisterous and loud and c-r-o-w-d-e-d! Allow plenty of time and just relax.
There are going to be a few hundred other people who want the same shot of your dream car, who want to ride the cool Jeep and Dodge Ram tracks, and who want to test out all the new interactive tools.
Think of it like a trip to Great America during the middle of the summer, except you could actually take home these rides!
Chicago Auto Show Details
Here are a few highlights of this year's Chicago Auto Show, as well as details on how to attend.
When is the 2022 Chicago Auto Show?
The Chicago Auto Show is February 12 – 20 from 10am to 10pm, and February 21 from 10am to 8pm.
Where is the Chicago Auto Show?
The Chicago Auto Show takes place in the South Exhibit Hall at McCormick Place, 2301 S. King Dr, Chicago, IL 60616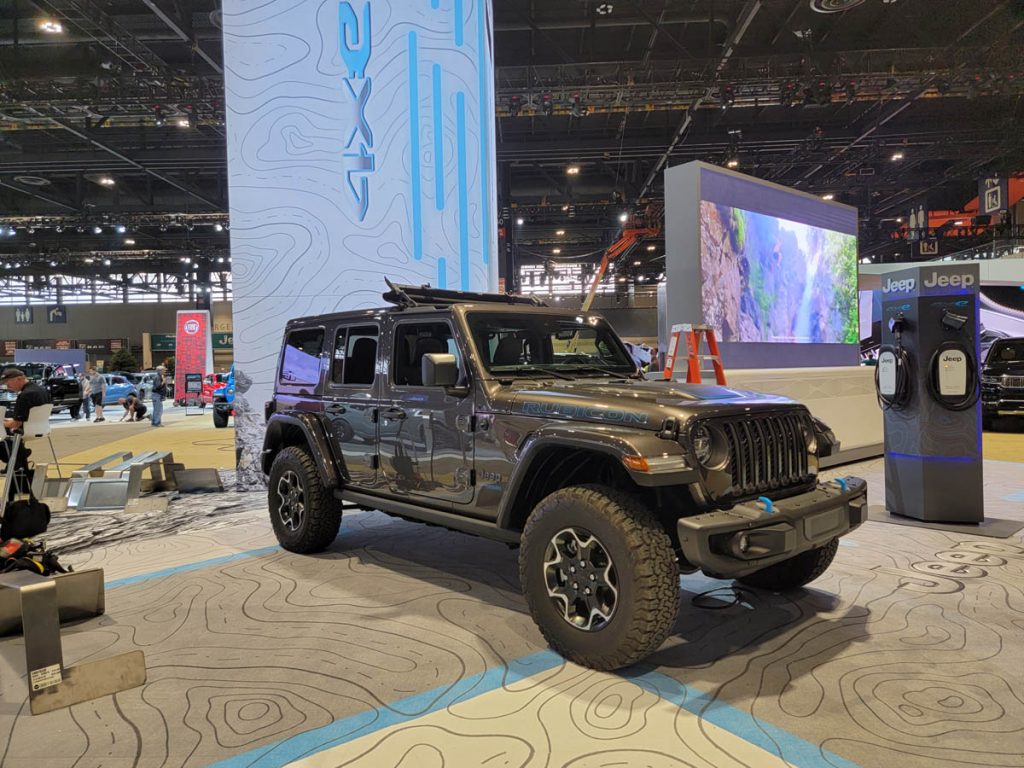 What indoor tracks will be at the Chicago Auto Show?
A staple at the show since 2005, Camp Jeep is back for its 18th consecutive year. This indoor track "features an 18-ft., 35-degree 'mountain' where passengers experience the extreme off-road and traction capabilities of Jeep's latest vehicles – including the brand-new 2021 Wrangler 4xe plug-in hybrid SUV and 2021 Gladiator pickup."
Ford Built Wild debuts globally at the Chicago Auto Show with a 30,000-sq.-ft. custom experience showcasing the new Bronco family.
Ford Built to Electrify also debuts at the Chicago Auto Show with an 11,000 sq.-ft. experience showcasing Ford's commitment to electric vehicles, including the all-new Ford F-150 Lightning, Mustang Mach-E and E-Transit.
In Ram Truck Territory, attendees can take a ride in a Ram 1500, 2500 and 3500 around the 28,000 "ultimate in-truck adventure." Riders will climb Ram Mountain, a 13-ft. high, 30-ft. long course element with 30-degree approach and departure angles.
What cars can I take for an Outdoor Test Drive?
Want to go for a ride? Sign up for any of these test drives either at the manufacturers' exhibits on the show floor, or in the corridor along MLK Drive.
FORD (10:00 a.m. – 5:30 p.m.)
KIA (10:00 a.m. – 6:00 p.m.)
EV6
Forte
K5
Seltos
Sorento PHEV
Sorento X-Line SX
Telluride
SUBARU (10:00 a.m. – 5:00 p.m.)
Ascent
Crosstrek
Forester
Impreza
Legacy
Outback
NOTE: Masks are required for Test Tracks and Test Drives.
Are masks required at the Chicago Auto Show?
Yes, masks are required for all attendees age 2 and over, except when eating and drinking.
Is proof of vaccination required to attend the Chicago Auto Show?
Proof of vaccination WILL NOT be required for admission. However, designated areas will be set up for the consumption of food and beverage and proof of COVID-19 vaccine WILL BE required for entry into those areas.
As a result of this requirement, outside food and beverage are not permitted into the 2022 Chicago Auto Show.
How much is the 2022 Chicago Auto Show?
Tickets to the 2022 Chicago Auto Show are $15 for adults, $10 seniors for 62+, and $10 children 4 to 12.