As someone who's obsessed with road trips, I look forward to the Chicago Auto Show every year. I look at the shiny vehicles and don't see pieces of machinery. I see adventure, possibilities, and the open road.
While the annual event couldn't take place this February, if there's one thing we've learned in the past year and a half, it's how to adapt.
That's exactly what the Chicago Auto Show has done. They've "pivoted," presenting a show in July for the first time in its long, long history.
At 500,000 square feet, the show is half the size of previous years, but it's still impressive, with a lot to see and do.
The Chicago Auto Show is more than a static display of vehicles, although many of them, like the classic Corvette featured below, can just sit there and look pretty. There are interactive exhibits that make it a full, fun day for friends, family, and any driving enthusiast.
One of the downsides of an auto show during a Chicago winter is everything has to be inside. Not this year. Not only are there outdoor activations for the first time, several manufacturers are also offering test drives. (See the full lineup below).
And, because this is Chicago and we love our festivals, there's also a Chicago Auto Show Street Fest. From 6:30pm to 10pm Thursday, July 15 – Sunday, July 18, the party takes to the streets with live music, local beer, and food trucks. You can see the list of participating vendors on the auto show website.
Will there be more summer shows in the future? Maybe. The Chicago Auto Show will always take place in February, but there might be smaller warm-weather activations if this summer show and street fest are a success.
Because of health concerns, there are some protocols you'll need to know about. Attendance is limited and your ticket must be purchased online. You'll pick a four-hour time slot to enter and you should plan to arrive within thirty minutes of your beginning time. However, once inside, you can stay all day.
2021 Chicago Auto Show
Here are a few highlights of this year's special edition of the Chicago Auto Show, as well as details on how to attend.
Camp Jeep
A staple at the show since 2005, Camp Jeep is back for its 17th consecutive year. This indoor track "features an 18-ft., 35-degree "mountain" where passengers experience the extreme off-road and traction capabilities of Jeep's latest vehicles – including the brand-new 2021 Wrangler 4xe plug-in hybrid SUV and 2021 Gladiator pickup."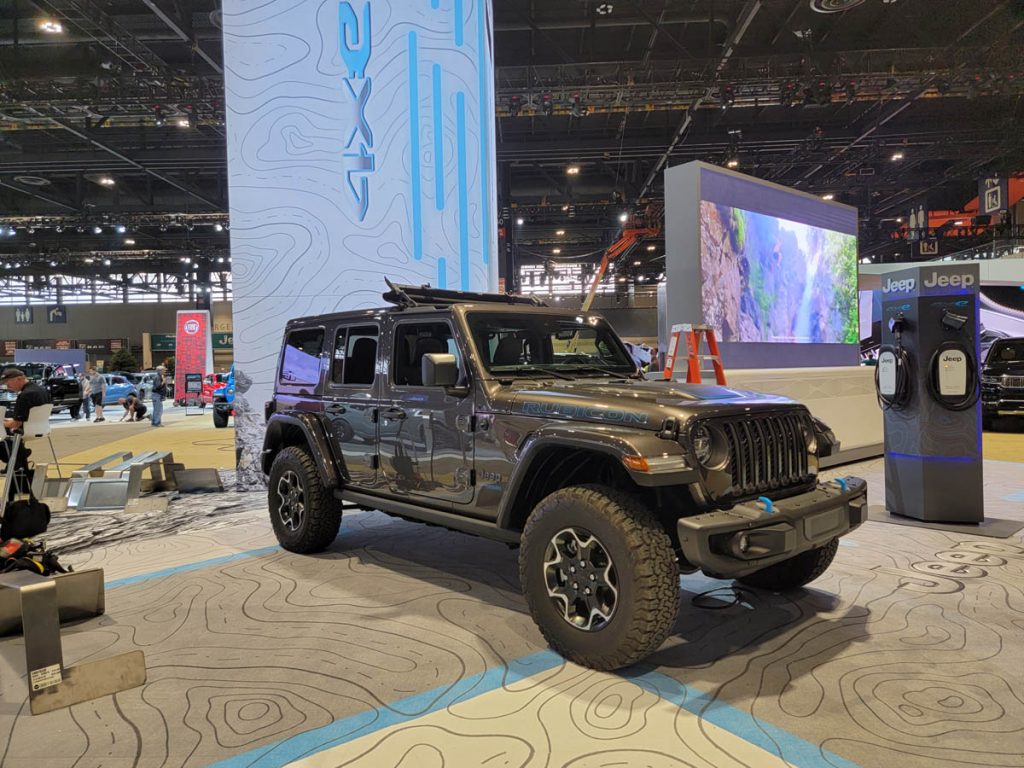 Ram Truck Territory
Also inside is Ram Truck Territory. Attendees can take a ride in a Ram 1500, 2500 and 3500 around the 28,000 "ultimate in-truck adventure." Riders will climb Ram Mountain, a 13-ft. high, 30-ft. long course element with 30-degree approach and departure angles.
Ford Built Wild
The Ford Bronco is the G.O.A.T. – as in, Goes Over Any Terrain. This outdoor activation is 30,000 square feet of Bronco history, including a few original heritage vehicles, and an off-road course. This intense track features a 38-degree climb; all that's missing is the ratcheting noise of a roller coaster.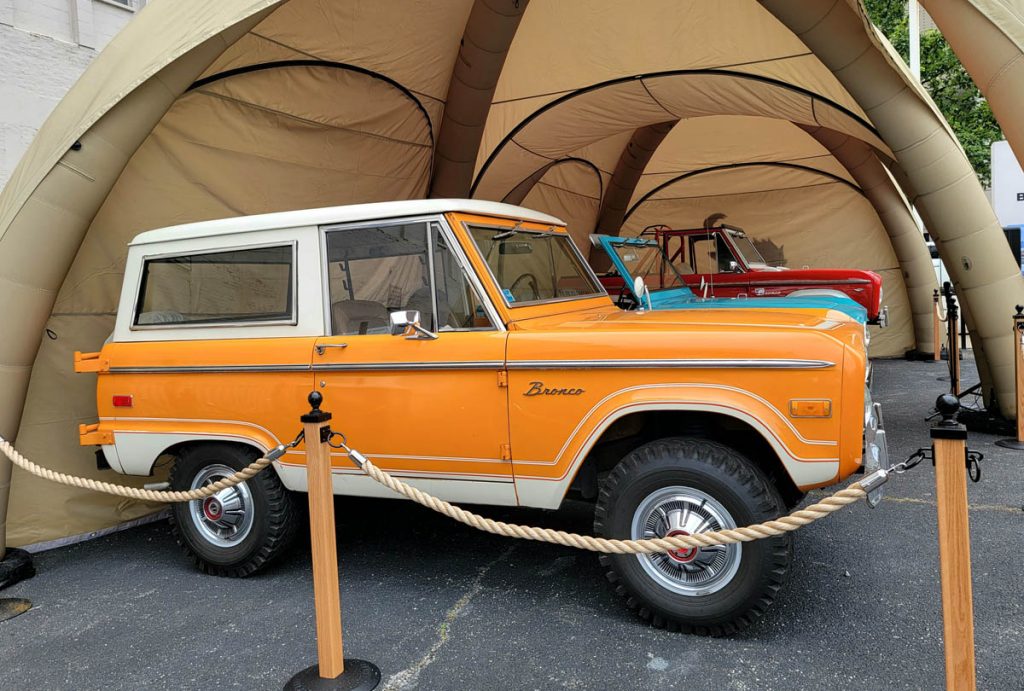 Ford Built to Electrify
Ford's making a concerted effort to move to electric vehicles, and it's evident in this 11,000 sq ft display that highlights their Ford F-150 Lightning, Mustang Mach-E and E-Transit.
For more Ford love, read my Ode to the Luxurious Ford Expedition Platinum Max on The Local Tourist
Outdoor Test Drives
Want to go for a ride? Sign up for any of these test drives either at the manufacturers' exhibits on the show floor, or in the corridor along Indiana Avenue.
CHEVROLET (9:00 a.m. – 9:00 p.m., Indiana Ave.)
Blazer
Bolt EV
Bolt EUV
Equinox
Trailblazer
Traverse
Silverado 1500
CHRYSLER (9:00 a.m. – 8:30 p.m., MLK Drive – Enter off Show Floor @ Ram)
Pacifica Limited AWD w/ S Appearance Pkg.
Pacifica Hybrid PINNACLE
DODGE (9:00 a.m. – 8:30 p.m., MLK Drive – Enter off Show Floor @ Ram)
Challenger T/A 392 Widebody
Charger Scat Pack Widebody
Durango SRT
FIAT (9:00 a.m. – 8:30 p.m., MLK Drive – Enter off Show Floor @ Ram)
FORD FULL-LINE (9:00 a.m. – 6:00 p.m., Indiana Ave.)
Bronco Sport
Edge
Escape Hybrid
Explorer
F-150 Hybrid
FORD MUSTANG MACH-E (9:00 a.m. – 6:00 p.m., Indiana Ave.)
JEEP (9:00 a.m. – 8:30 p.m., MLK Drive – Enter off Show Floor @ Ram)
Grand Cherokee 80th Anniversary
Gladiator Willys
Wrangler Sahara
Cherokee Limited
KIA (9:00 a.m. – 6:00 p.m., Indiana Ave.)
Forte
K5
Niro EV
Seltos
Sportage
Sorento
Telluride
LINCOLN (9:00 a.m. – 6:00 p.m., Indiana Ave.)
RAM (9:00 a.m. – 8:30 p.m., MLK Drive – Enter off Show Floor @ Ram)
1500 Limited
2500 Limited (Diesel)
SUBARU (9:00 a.m. – 6:00 p.m., Indiana Ave.)
Ascent
Crosstrek
Forester
Legacy
Outback
VOLKSWAGEN (9:00 a.m. – 6:00 p.m., Indiana Ave.)
NOTE: Masks may be required for Test Tracks and Test Drives.
When is the 2021 Chicago Auto Show?
July 15 – 18, 9am to 10pm
July 19, 9am to 8pm
Where is the 2021 Chicago Auto Show?
As always, the Chicago Auto Show is at McCormick Place, but this year it's in the WEST building, between Indiana Avenue and S. Martin Luther King Drive.
Where can I park at the 2021 Chicago Auto Show?
If you're driving to the auto show, parking at McCormick Place is expensive. Check SpotHero to save on nearby parking.
How much is the 2021 Chicago Auto Show?
Tickets to the 2021 Chicago Auto Show are $13 for adults, $10 seniors for 62+, and $10 children 12 and under. Please note:
All tickets must be purchased online; there are NO TICKET BOOTHS at McCormick Place. All ticket sales are final. While there won't be any ticket booths, attendees can buy tickets on their smartphones. No discount tickets will be available from show organizers; however, select new-car dealers may have purchased them for their valued customers.
Get your timed-entry tickets to the Chicago Auto Show here
---
Do you plan on visiting the 2021 Chicago Auto Show? What are you most excited to see?