The concept behind our Chef's Table event series is simple: share outstanding restaurants with an intimate group of foodies. More often than not these restaurants are hidden gems, and the quality of their cuisine and service is surprising to the attendees and creates instant fans. At their Chef's Table event the Ashburn exceeded expectations, even for our regulars who now inherently trust our featured restaurants. Named for Chicago's first airport, the Ashburn Flying Field, this "hotel restaurant" is more than just a layover for guests and is instead a destination in its own right.
Located inside the Loews O'Hare, The Ashburn is a fairly new concept for the hotel. Previously a Mediterranean grill, the space was reinvented in just a couple of months and with a relatively small budget. The result is a gastropub with craft beers and cocktails and a menu of Chicago staples and twists on American cuisine. Surprisingly there are also several gluten-free options.
Chef de Cuisine Brian Wolters and his team provided an exemplary experience. Our evening began with a choice of a house-made shandy with fresh lemon or the Ashburn IPA, a custom collaboration with Two Brothers Brewing. Non-beer drinkers were given a choice of red or white wines from Context, and those were poured throughout the meal. Dinner itself started with Chicago-style flat bread and an impressive charcuterie board. The flat bread was topped with crumbled sausage, diced onion, giardiniera, and loads of green peppers. Confession: I don't like green peppers, but on this flat bread? I WANT THEM ALL.
(Please excuse the crazy tint to this picture. The flatbread was under a heat lamp, and it went so quickly I had to snag a photo before it all disappeared!)
The charcuterie was insane. I've rarely seen one that could compare to this spread, and I've seen a lot of charcuterie. This beautiful bounty consisted of wild boar sausage, pate, manchego, aged gouda, white cheddar, grilled crostini, house grape-rhubarb preserves and my favorite, house cured duck breast. 
The following courses were served individually, beginning with this lovely spring salad of roasted beets, ramps, radishes, pea sprouts and a clever Ashburn IPA sweet onion vinaigrette served in beer bottles.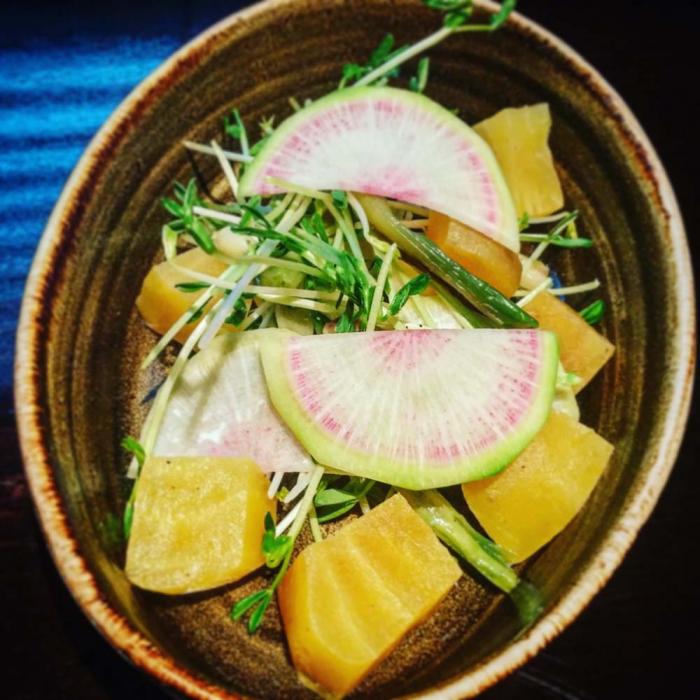 This rainbow trout has ruined me for all other rainbow trouts, Tender, moist, flaky, it had the richness of salmon. It was served with corn fritters on wilted sorrel and topped with blackened skin. 
The trout was then followed by an incredible combination of seared chicken thigh plated on a bed of Farro pilaf of squash with bacon and pearl onions. It was accompanied by a lemon and tarragon slaw. Rich, fresh, layered.
For dessert we were treated to (drum roll please) 'Smores Panna Cotta. This rich, creamy dish of delight was served with cinnamon biscotti.
Whether you're heading to O'Hare, staying at Loews, visiting the Rosemont Entertainment District, or just looking for a great meal, make sure The Ashburn is on your radar. This is one restaurant where you'll want to land.
The Ashburn is located in the Loews Chicago O'Hare Hotel at 5300 N River Road in Rosemont, IL. Featured photo by Donna Binbek.