Parking in downtown Chicago is expensive. Street parking can cost up to $7 an hour and private garages and lots can be more than $60. However, there are ways to find cheap parking in Chicago so that it doesn't cost you more than your entertainment does.
Depending on where you're going sometimes parking at a meter is your best bet. If you're outside of the downtown area most meters are $2 an hour and are free from 10pm to 8am. Sometimes you can even find spots without meters, but make sure a neighborhood permit is not required.
Rates increase as you get closer to the Loop. Parking meters are $4 an hour in Greektown, River North, the Magnificent Mile and the Gold Coast, Old Town, and the South Loop to Roosevelt.
Once you're inside the Loop, however, rates are $7 an hour from 8 a.m. to 9 p.m. and $3.50 per hour from 9 p.m. to 8 a.m. There are no free days in Chicago either, so plan on paying even if it's Sunday or a holiday.
You're only supposed to park at a meter for two to three hours at a time, although if you have the Park Chicago app you can extend it directly from your phone. However, those rates can quickly add up, so a parking garage may be a better bet.
Find more tips on parking in Chicago, including where to find your car if it gets towed.
How to find cheap parking in Chicago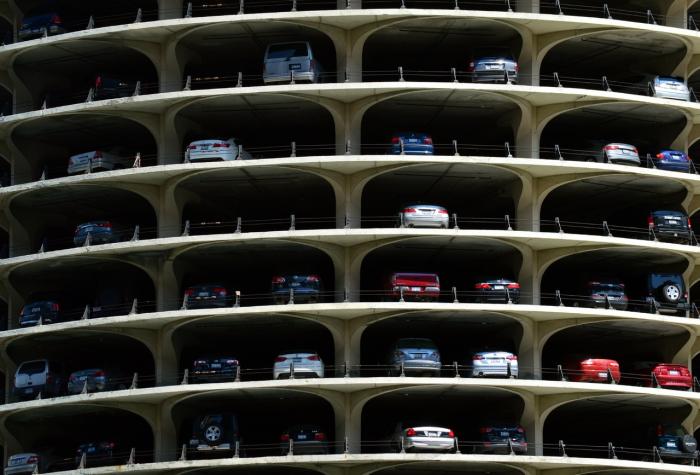 Find the Best Chicago Parking Rates Online
Parking garages and lots are convenient in downtown Chicago but can be very expensive. That being said, some garages offer early bird, afternoon and evening, and weekend rates. Rates also vary from garage to garage, so you may pay $14 at one garage and $32 at one across the street.
BestParking.com is a free website that lets you search for parking rates by location and time. Once you enter your destination by neighborhood, attraction, or street address and the length of time of your stay you'll see calculated total rates.
They've got a relationship some garages and lots that allow you to pre-pay for a guaranteed rate. In addition to the website they also have apps for Android and iPhone so you can do some more last minute research.
Use Discounted Parking Apps in Chicago
The best way to save on parking in Chicago is to prepay with a parking service that's already negotiated the lowest rates possible. Both Parkwhiz and Spothero allow you to search for parking in advance. Once you've found a spot you like reserve it and prepay online.
You don't even need a printer for many of the garages and lots. Just download the app for either service and display the bar code to the reader when you enter and exit. For other lots you may need to enter your license plate number.
If you're staying overnight using one of these services could save you enough money to pay for your tickets to that fantastic museum you've been wanting to visit!
While parking in downtown Chicago can be extremely expensive, it doesn't have to be. You can save money, if you know where to look and do a little bit of planning before you leave.