Lollapalooza returns to Grant Park in 2021! General admission tickets for the four-day fest are still available. For $375, you can see acts like Miley Cyrus, Post Malone, Modest Mouse, and Foo Fighters.
When you're at a festival, the last thing you want to do is stand in line at an ATM and then pay to get your own money out. Heck, that four bucks could get you a bottle of water! Lolla Cashless – a wristband that allows you to pay for food, drinks, and merchandise with the wristband you're already wearing – saves you time and makes it easy to pay for (almost) anything you want at Lollapalooza.
Here are the eight things you need to know about Lolla Cashless.
1. How does it work?
The wristband uses an RFID (radio frequency identification) chip to access your credit card information. To prevent fraud you set up a pin number when you register your wristband.
When it's time to buy a beer, lobster dog, or concert t-shirt, you'll scan your wristband against a special vendor machine and enter your pin. To ward off thieves, the payment will only go through if the correct pin is entered.
Bonus: It's free to use.
2. Can I add a tip?
Yes! After you've tapped your wristband to pay for that beer you can add a tip amount before entering your pin.
3. Can I put a limit on how much I spend?
No, and those snacks and drinks can add up, so be careful! It's linked to your credit card, which means you'll only run out of funds when you hit your credit limit.
4. I didn't register in time for Lolla Cashless. Is it too late?
No. You can activate it at Lollapalooza. Just visit the Wristband Activation tent by Buckingham Fountain.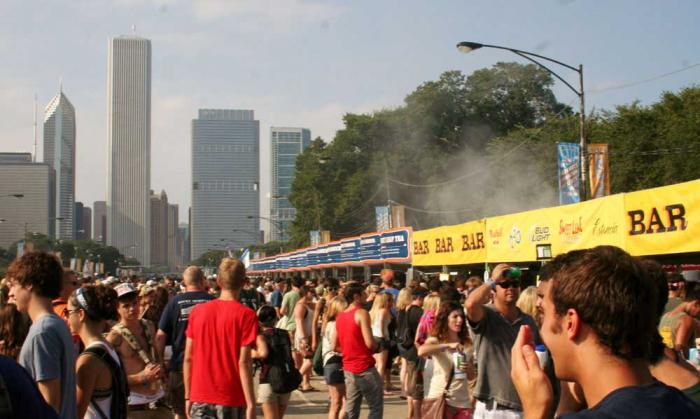 5. There's often no cell service during the festival. Will Lolla Cashless be fast?
Since those 4G networks crash every year, Lolla Cashless will work offline. If you can't connect, the system will save the charges until they can be processed.
6. Is Lolla Cashless safe to use?
Yes. The wristband doesn't actually store your credit card information and it carries all the same security features and protection as your credit card. The wristband is like a key, but it won't open the lock without the correct pin.
7. Do I still need to bring my wallet?
Yes. You'll still need your ID, and not every vendor accepts Lolla Cashless. Plus that whole getting to and fro thing probably requires some money, and you may want to go to one of those epic afterparties.
8. I'll stick with cash or credit card, thanks. Do I still need to register my wristband?
Yes. Whether or not you use the mobile payment system, remember to register your wristband. This will allow you to get a new one if yours is damaged. There's a $25 fee to replace your wristband.
More questions? Here's what Lollapalooza says to do: If you need to contact our ticket service provider, Front Gate Tickets, reach out at support.frontgatetickets.com