The Local Tourist's weekend visit for two, including dinner at Woodlands Restaurant and two massages at The Stonedrift Spa, compliments of Eagle Ridge Resort & Spa.
The drive is long. Three hours or so in the car, but they go by in a flash as we chat and take in the sweeping vistas. We are two Chicago gals on a mission to see some fall colors, experience a new destination in our own backyard, and just plain get away from it all.
Fortunately for us, Illinois offers all of the above. Where, you ask? We are headed for the area of the state called Driftless, referring to the ancient glaciers left untouched. Rugged cliffs and rolling hills, lush woodlands and abundant wildlife, streams cascading into Lake Galena… Toto, we are not in Chicago anymore!
Welcome to the 6,800-acre development called The Galena Territory, tucked away in the hills just minutes away from the historic town of Galena. Home to renowned Eagle Ridge Resort & Spa, the area offers a myriad of relaxation and recreation opportunities for all seasons. And we are here to take it all in.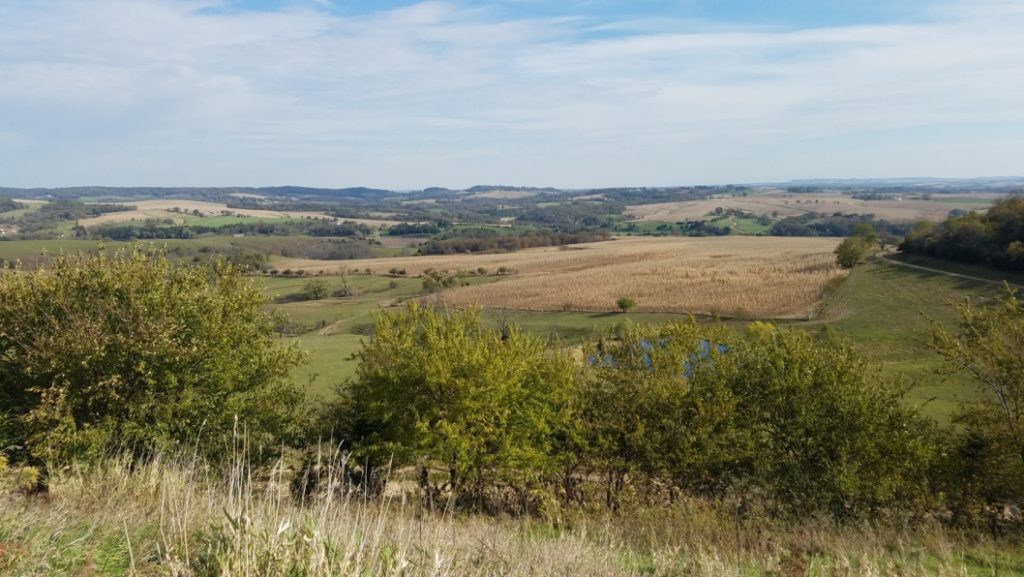 As we drive up to the resort in the late October drizzle, one vista is more breathtaking than the next. The fall colors are lush and vibrant. We stop by the quaint downtown Galena for a bite to eat and some shopping, as well as a look at the historic Belvedere Mansion among other sights.
We sample local wines at Galena Cellars tasting room and local foodstuffs at Galena Canning Company. We wind our way up to the top of Horseshoe Mound for the sweeping panoramic views all the way to Iowa.
A brief stop and a quick hike at Thunder Bay Waterfall, in the now pouring rain, and we are ready to be pampered. Enter Eagle Ridge Resort & Spa, the place we drove all the way from the city to see.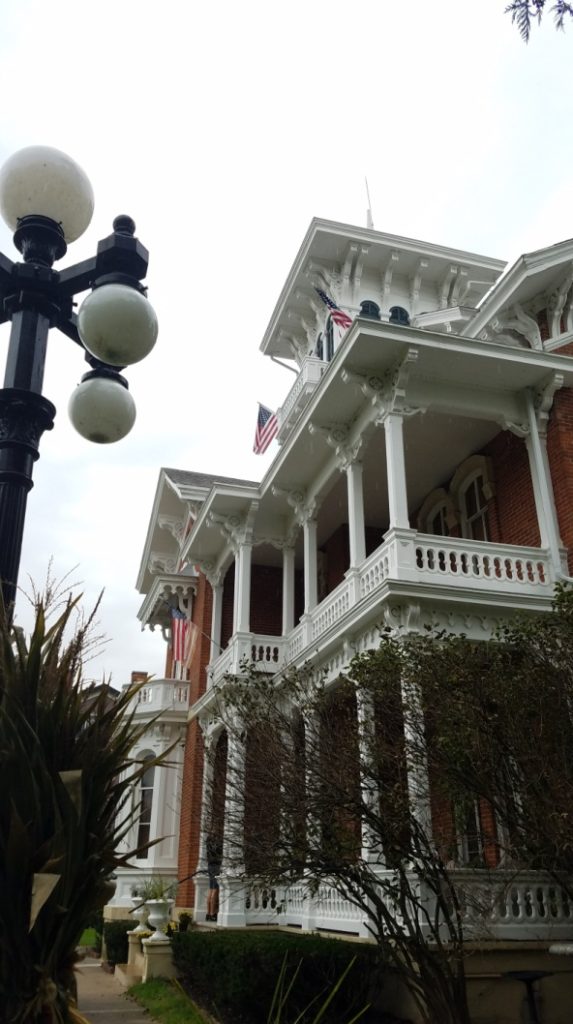 Having checked in, we find out that our accommodations are actually a two-bedroom villa on the South golf course, a few minutes drive away from the main building. Tucked away in the woods, our villa features a quiet back deck, a wood-burning fireplace, a full kitchen and a laundry room. Quiet, quaint and utterly heavenly for these city slickers. And, to boot, the resort offers 24-hour shuttle service, so we park the car for the weekend and let others do the driving. These guys are better at it anyway, and they know their way around. Let the relaxation begin!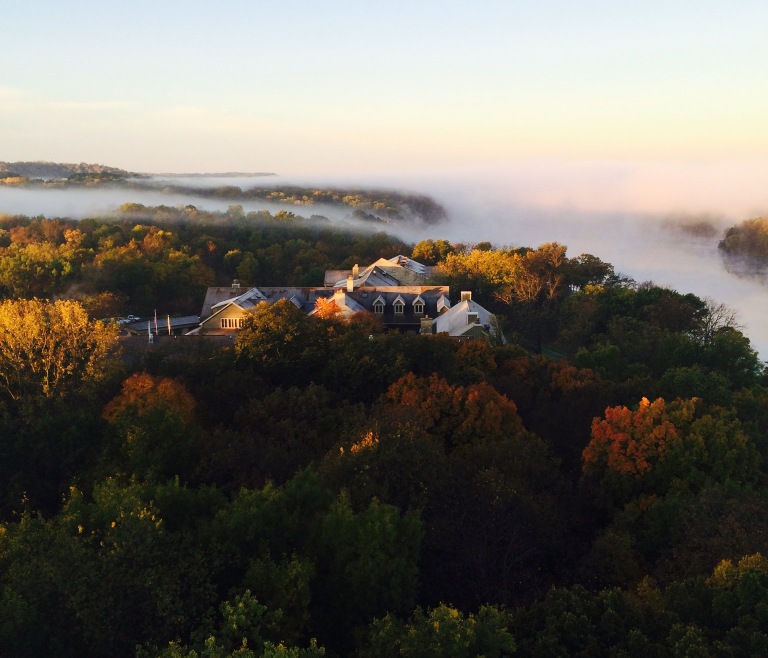 Unsurprisingly, I fail to light the fireplace on my own. In a desperate desire for a fire though we contact the front desk for help. Our shuttle driver, it turns out, is handy with a lot of things, including building a proper fire. Five minutes after his arrival at our villa the flames are crackling and the fireplace is burning in earnest.
We quiet down with a bottle of wine, watching the fire dance… Personally, I would happily sit in front of the fireplace for days, but we have a dinner date to keep with Eagle Ridge's Woodlands Restaurant.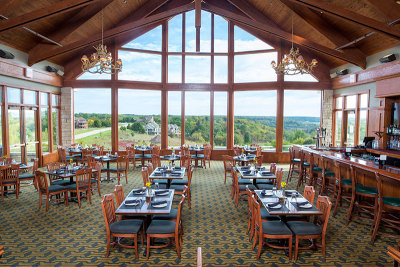 The restaurant is busy, yet the manager Jack is making quick rounds to make sure each table is happy. "If something isn't to your liking," he insists, "Just tell me! We WILL make it right! We want you to leave happy."
He also tells us there is live music in the lounge later, and offers to help us find a couple of bar stools after dinner. "Don't rush though. Enjoy! We have excellent food." That Woodlands does. It is a menu of classics like rack of lamb, steaks, chops and seafood. We select a bottle of wine, a Chateauneuf-du-Pape none less (a favorite of mine), and the dinner is off!
My gal pal likes things "the plainer, the better." She selects a steak with seasonal vegetables and mashed potatoes. I myself am maintaining a ketogenic lifestyle, so some alterations have to be made for my choices: no potatoes or breadcrumbs, extra veggies. The restaurant is happy to accommodate, which is very much appreciated.
I opt for a couple seafood starters: a classic shrimp cocktail and scallops martini served on the half shell. Both unsurprisingly delicious and well executed. The salads come freshly tossed and expertly dressed. My companion's ribeye is a lovely rosy pink, but my lamb is a bit over for my preference. A quick chat with Jack, and a new plate of lamb, this one juicy and medium rare, makes its way to the table on the fly.
Jack really does mean it: he wants everyone to be happy. Dessert is red velvet cake for my gal pal and a cheese plate for me. Perfect finish.
We get swept away to the corner table in the lounge, where a young man is plucking the guitar and crooning away. Martinis? Don't mind if we do. Outside it is rainy and dark, but in here there are tunes, people watching and cocktails. We are cozy and content, finishing our nightcap. A short shuttle ride later we are back to our little villa in the woods, still warmed by the dying fire. Time for bed.
We sleep like babies. It is quiet and peaceful, and the rain is drumming away on the roof. I could not be more relaxed if I tried. Morning brings with it fresh autumnal air and peeks of sunshine. We take advantage of the patio with the view of the woods for our morning coffee. Thirty-two miles of hiking trails of The Galena Territory beckon, but first we have to visit the spa.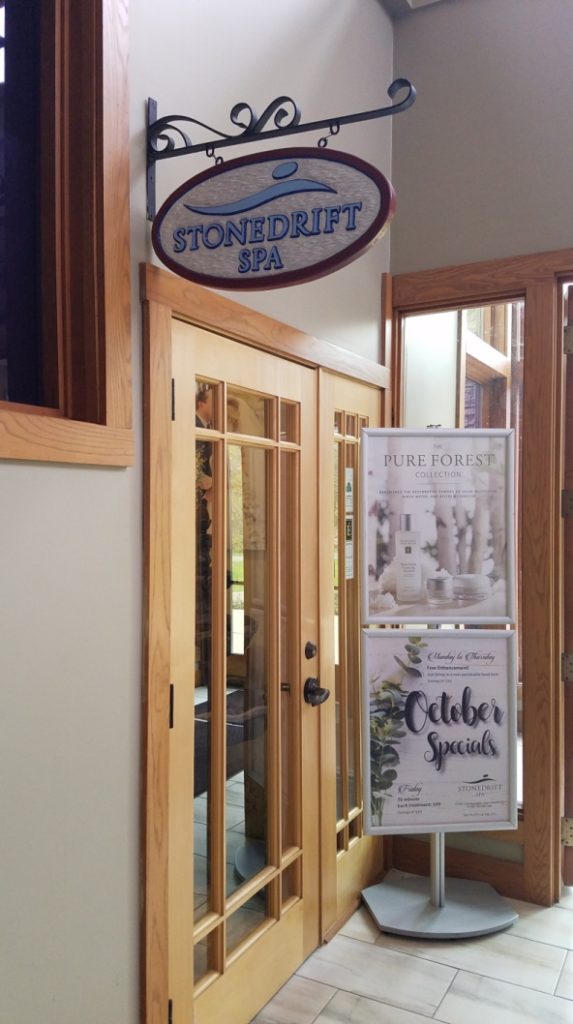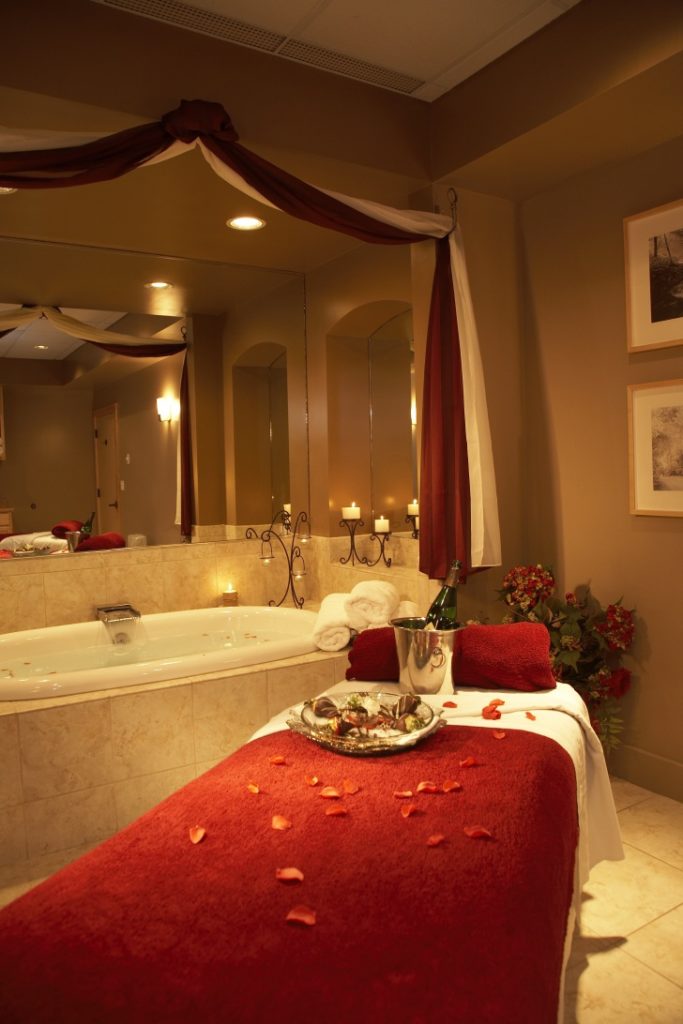 The Stonedrift Spa at Eagle Ridge provides a peaceful setting to rejuvenate body and soul. Signature treatments here include couple's massages, facials, reflexology, energy therapies and nail treatments. The spa's relaxation room is a great place to unwind while waiting. We took full advantage, sipping tea, wrapped up in plush robes, fifty-minute massages ahead of us. My massage was exquisite. The therapist was highly knowledgeable and attuned to my needs. I left her treatment room relaxed and limber, completely at ease.
Taking in a steam at the state-of-the-art locker room, we wrapped up our spa day with Eminence body oils and other products, a top quality line of skin care in residence at The Stonedrift Spa. Nothing will put a spring in your step faster than a good massage and aromatherapy.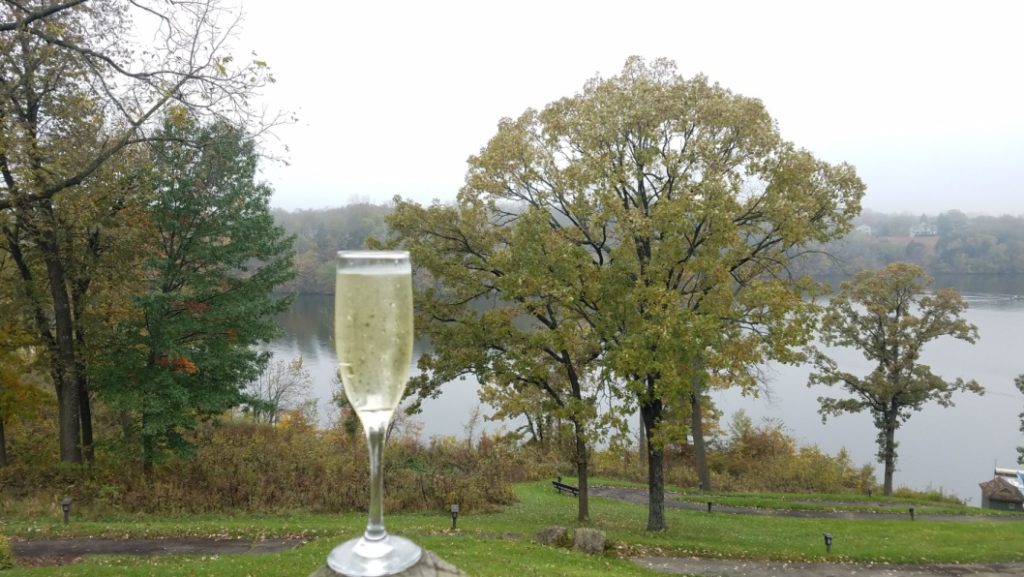 Sunday brunch at Woodlands was once again hosted by the inimitable Jack. "I am golfing later. It is going to be a good day!" That it definitely was. The sprawling autumnal views of Lake Galena sparkled through the windows. We took our champagne glasses outside to the Adirondack chairs on the deck and took it all in.
The unlimited champagne, by the way, is included in a very modest charge for what I can only say is the biggest brunch buffet I have ever seen. Omelettes made to order gave way to mountains of bacon and sausage. Lox and bagels spread was near a fruit, yogurt and cereal bar. All manner of breakfast foods as far as the eye could see… and then there was another whole room!
Here, fresh salads chilled next to a whole cold poached salmon. The carving station offered up prime rib, turkey and ham. A vast charcuterie and cheese selection called my name. Not to mention hot and cold pasta dishes, roasted vegetables, and the list goes on.
A popular destination for Sunday brunch, and rightfully so, Woodlands was buzzing with people. Yet we didn't feel rushed, enjoying our coffee in the window seat. All in all, a perfect autumnal weekend getaway.
As our little break from reality came to an end, we were sad to leave our little villa in the woods. We promised to return. There is so much we still want to do in The Galena Territory, so many things offered by Eagle Ridge Resort & Spa. Hiking, zipline canopy tours, hot air balloon rides, boating and golf in the warmer months. Snowshoeing, cross country skiing and horse-drawn sled rides in the winter.
With the holidays approaching, the resort is preparing for its many visitors, including Santa and Mrs. Claus! The Nordic Center slated to open mid-November will offer a variety of winter sports. But if the cold weather is not your jam, you can warm up by the indoor pool or curl up with a book next to many a fireplace. Eagle Ridge has something for everyone. Explore with gusto!
Ready for your own getaway? Click here to book your stay.
Eagle Ridge Resort and Spa is located on the scenic Lake Galena within The Galena Territory.
Thanksgiving weekend festivities and kid-friendly activities at Eagle Ridge Resort and Spa include the following:
Annual Thanksgiving Day Feast from 11:30 a.m. to 5 p.m. Galena's largest Thanksgiving dinner will celebrate the bounty of the season with more than 40 exquisite dishes, including a delicious selection of traditional Thanksgiving pies and desserts. The dinner is $38 for adults and $19 for children, plus tax and gratuity. Children under 3 eat free.
For guests who want to honor the day with family in one of the resort's rental houses, complete Thanksgiving meals are available for carry-out. Starting at $250, guests can order a complete Thanksgiving meal carryout, staged at Paisanos from 12 p.m. to 5 p.m.
The resort's restaurant, Woodlands will be open for breakfast and dinner offering plated Thanksgiving dinner for $25 per person, starting at 3:00 p.m.
Children's Workshops and Breakfast with Santa. Without having to prepare or clean up from a feast, families can also relax and start the holiday season with a fun-filled line-up of kids' activities. The entire Thanksgiving weekend at Eagle Ridge Resort and Spa is packed with festivities starting with the Thanksgiving Day Feast followed by Santa's arrival and children's workshops on Fri., Nov. 29, and "Breakfast with Santa" on Sat., Nov. 30 from 8:30 a.m. to 11:30 a.m.
Overnight packages: With rates starting at $159 per night, Eagle Ridge Resort and Spa welcomes families this Thanksgiving weekend with a package that includes overnight accommodations and a $75 credit to be used towards Thanksgiving dinner.
For more information about Eagle Ridge Resort and Spa's Thanksgiving Feast, Santa's visit and other holiday offerings and packages, people can visit www.eagleridge.com or call 800-892.2269.