Dr. Murphy's Food Hall is the newest dining destination in the Illinois Medical District. In anticipation of the opening, Your Chicago Guide was invited to attend a special preview of this exciting new concept. The preview was carefully managed to include only small numbers of people, all properly socially-distanced. We were asked to wear masks at all times except when seated at a table enjoying the food and beverage.
Food halls have been one of the most popular and fastest growing food trends in Chicago for the past several years. With the opening of Dr. Murphy's Food Hall that trend has finally made it to the Illinois Medical District. The concept is one part of the Cook County Hospital's transformative $150 million renovation, which will also include fully leased medical office space, a daycare center, and a 210-room Hyatt Place and Hyatt House Chicago Medical/University District hotel, the first combined Hyatt Place and Hyatt House hotels located in Chicago.
This new food hall concept is named in recognition of Dr. John B. Murphy – a pioneering surgeon through the turn of the last century who studied, interned and taught at the Cook County Hospital. The inaugural vendors in the food hall include nine minority and women-owned businesses representing a major push towards highlighting and supporting the incredible diversity of Chicago's culinary landscape.
At the helm of the Dr. Murphy's Food Hall project is award-winning chef Akhtar Nawab. According to Chef Nawab, "Our team has worked hard to put together an amazing lineup of distinctive culinary concepts, from Southern and Indian, to BBQ and desserts. We are proud to be home to a number of local vendors launching their first brick and mortar locations or taking the chance and expanding their business with us during these times. We look forward to going on this journey with them together as a team and establishing ourselves as a part of the community."
In contrast to the ornate façade of the renovated building, the food hall has a sleek, modern look. To provide confidence in the safety of the dining experience, Dr. Murphy's Food Hall offers spacious seating areas, modular tables, an 800 sq. ft. outdoor dining space, a designated takeout/pickup area, integrated online ordering technology, and contactless payment systems.
On my recent visit, I had the opportunity to sample food and beverage from all twelve of the inaugural vendors. My thoughts about each vendor include a notation if the business is minority-owned (MBE) or women-owned (MWBE).
Brekkie & Bake Shop – Chef/Owner Taylor Bischof serves fresh breakfast items including breakfast sandwiches, bowls, overnight oats, and a variety of baked goods. Try their massive breakfast sandwich (your choice of protein, cheese, eggs, all assembled on your choice of roll, English muffin, or biscuit – and be sure to add the hash brown patty). The tater tots were a standout – what they laughingly call "Totchos" since they are served with cheese and are rather like eating tater tot nachos.
Crockett Cookies (MWBE) – Owner Cheryl Crockett started by baking lunchroom-style butter cookies for friends and has grown that into a business that bakes over 5,000 cookies daily for local and nationwide orders. Dr. Murphy's Food Hall provides her first storefront and she serves not only the amazing cookies (butter, peanut butter, oatmeal, and chocolate chip) but also tasty slices of chocolate cake and old-fashioned pound cake.
Classic Cobbler (MWBE) – Owned by Bran'Arla Johnson, Classic Cobbler is a family owned business specializing in home-made fruit cobblers and pies. I grew up in the deep South, so this concept is my hands-down favorite. What's not to love about freshly-baked cobbler (peach, blueberry, strawberry, or mixed berry)? Double down on your sugar intake and order either the bread pudding or a slice of one of the amazing pies. I vote for the pecan pie.
Doc's Bar (MBE) – The bar sits at heart of Dr. Murphy's Food Hall and offers both ample bar seating and drink services throughout the facility. The bar focuses on local beer and the cocktails are inventive riffs on classic cocktails, most with a Chicago-themed twist. My favorite was the Dr. Murphy's Reviver (gin, pampelmouse, Lilet Rosé, lemon juice, absinthe). That tiny hint of absinthe made this cocktail special. There are a dozen more to choose from, so visit often to sample those.
Jarabe (MBE) – Brothers Teddy and Alexis Vejar opened Jarabe in 2015 inside a small storefront in the Medical District as an off-shoot of La Adelita, one of Chicago's original food trucks. They now bring that food truck concept to Dr. Murphy's Food Hall. All of the traditional tacos are delicious. My favorite is the Al Pastor. They also have a small but excellent selection of breakfast items including a great Machaca.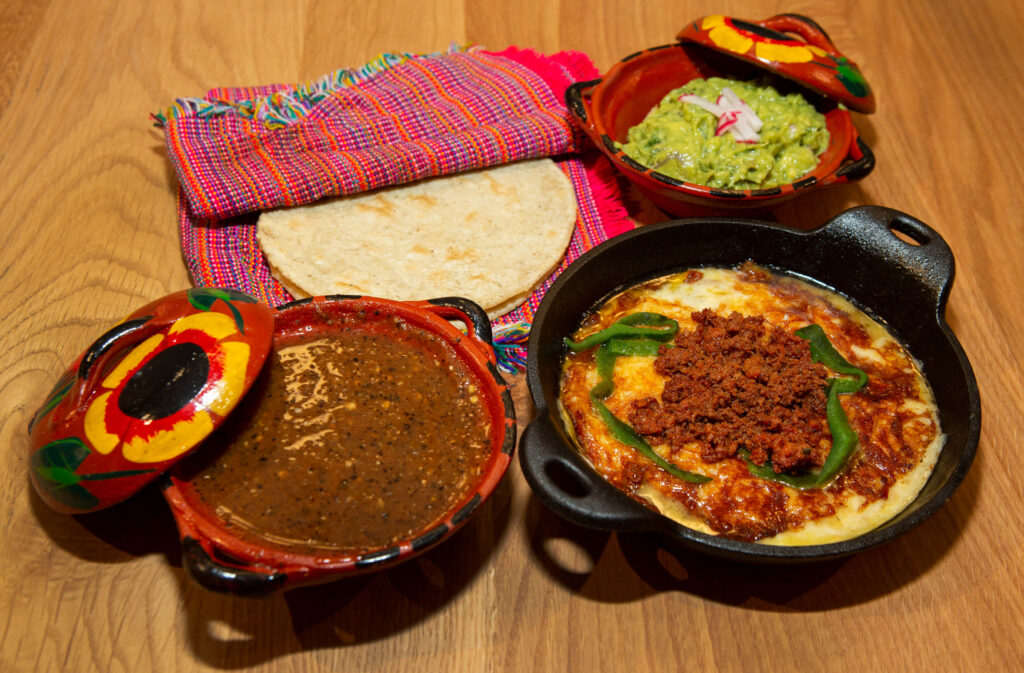 Kathmandu Momo Station (MBE) – Co-owners Rocky Shrestha and Sagar Gurung are bringing authentic Nepalese street cuisine to Dr. Murphy's Food Hall. A 'momo' is a traditional Nepalese steamed dumpling, but they can also serve them fried filled with chicken, pork, or a vegan filling. The steamed buns – especially the bulgogi chicken – are standouts.
Lexington Betty (MWBE) – Originally starting out as a food truck, Lexington Betty Smoke House has served authentic barbecue throughout the Chicagoland area for many years. Chef/Owner Dominique Leach brings extensive knowledge and experience of the craft of BBQ to Dr. Murphy's Food Hall. Check out their brisket platter, rib tips, or pulled pork platter – all amazing. I am not normally a huge nacho fan, but their loaded nachos were addictive!
Lil' Delta (MBE) – Co-owners Eldridge Williams and Robert Johnson have created this spin-off of their popular Wicker Park restaurant, The Delta. I'm Southern, so of course I had to love this one. On the lighter side, check out their Brussel Sprouts Salad (shaved apple, spiced pecans, blue cheese, lemon thyme vinaigrette). For a heartier meal, the Delta Burger is delectable and how can you go wrong with the Mississippi Short Rib Po' Boy? They also serve up some superior tamales, including a vegan version.
Maharani Indian Cuisine (MBE) – Chef/Owner Amit Singh opened his first restaurant in the Inner Rail Food Hall in Omaha, NE. This is his second concept, serving a variety of modern Indian dishes. Any of the Tikka options are excellent. Also, the vegetable pakora is worth a try. They have some of the most vegetarian and vegan friendly options in the food hall.
Ottobagatto – Chicago is a pizza-centric city but there are few spots to sample Staten Island-style pizza here. Chef/Owner Ed Carew is doing just that, including his famous pizza dough made using a long fermentation technique which makes the pizzas both extra delicious and more nutritious than many. That dough, sort of a halfway point between thin Neapolitan and thick Sicilian, is one of the characteristics of Staten Island pizza. They also serve a nice array of Italian wraps (piadini) and salads.
Passion House Coffee – What's a food hall without coffee? This markets the third location for one of Chicago's favorite local roasters, founded by Joshua Millman. If you haven't discovered Passion House yet, then you must make a trip for their amazing coffee. They also have a nice array of lattes, teas, and cold brews.
Viet Nom Nom (MBE) – Owned by Alan Moy, Viet Nom Nom is a Vietnamese-inspired quick service restaurant serving its own modern, healthful take on traditional classics like banh mis, summer rolls, and pho. Try the tasty Banh Mi Sandwich (chicken, pork, or tofu with Bragg's and siracha mayo). The Green Papaya salad is also superb. This is a friendly spot for vegan, vegetarian, gluten-free, and dairy-free diners.
Dr. Murphy's Food Hall (1811 W. Harrison St.) will be open from 6:30 a.m. – 9 p.m. Sunday – Thursday and 6:30 a.m. – 10:30 p.m. Friday – Saturday. Coffee service begins at 6:30 a.m., Breakfast at 7 a.m., and Lunch and Dinner at 11 a.m. daily.