It's a story as old as time. Boy meets girl. Girl ignores boy for abusive boyfriend. Boy feeds abusive boyfriend, among others, to man-eating plant. Plant lives happily ever after.
If that seems familiar, you've probably seen the 1986 film of Little Shop of Horrors. Or, you might have seen the musical on Off-Off-Broadway, or on Off-Broadway, or on Broadway itself.
This offbeat, supremely twisted and yet somehow charming story grips the imagination. Citadel Theatre's production will have you gripping your seat. It will also have you laughing uproariously and jumping from said seat at the end for a rousing standing ovation.
In 1960, Roger Corman shot a horror movie in only three days and on another movie's set. A couple decades later, Alan Menken and Howard Ashman took that low-budget film about a carnivorous plant and turned it into a musical.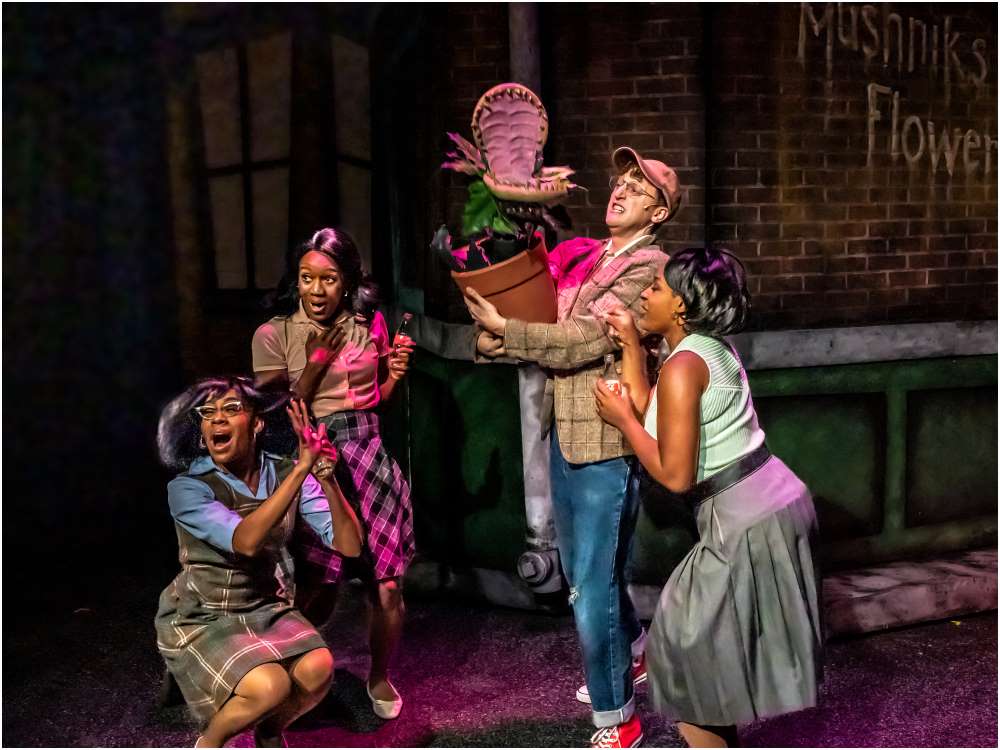 The story opens with a trio of urchins on Skid Row. They're outside Mr. Mushnik's Flower Shop, a flower shop with bare shelves. Mushnik may be a crotchety old man, but he still employs an innocent orphan named Seymour and a sweet young woman named Audrey. Seymour's in love with Audrey, but she's so determined to get out of Skid Row she's oblivious to his attentions. Instead, she stays in an abusive relationship with a sadistic dentist.
Seymour's discovery of an unusual plant, which he names Audrey II, turns around the fortunes of the flower shop as well as everyone associated with it. Unfortunately, the blood-thirsty greenery literally drains the young man and he has to find another solution.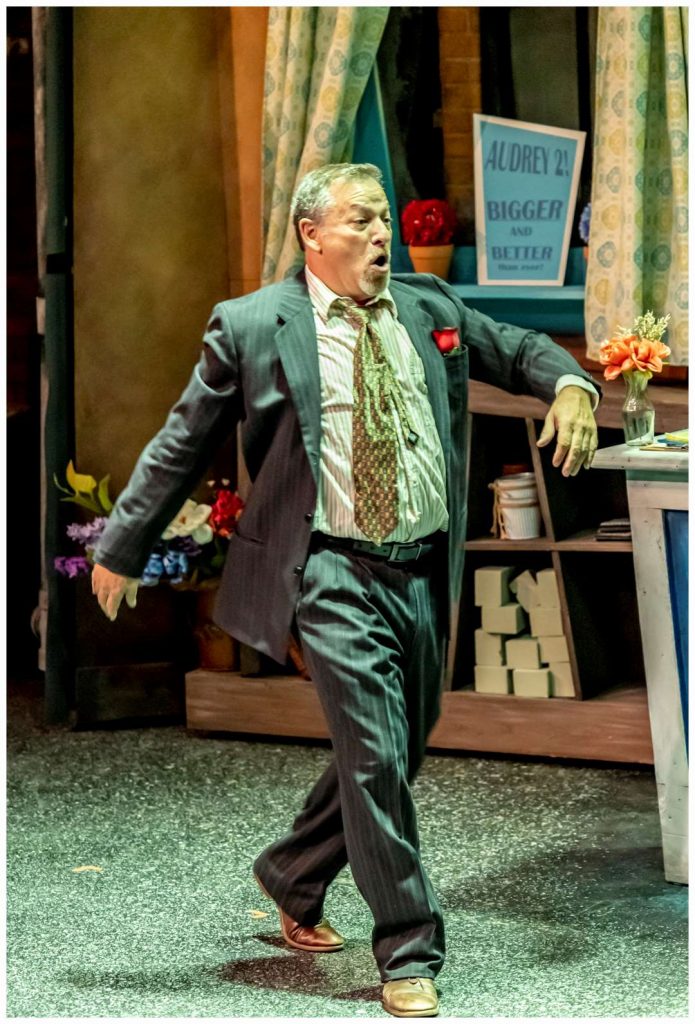 From the start, you know Mr. Mushnik is kinder than he wants to seem, that Seymour and Audrey are destined to be together, and that Orin Scrivello, D.D.S., deserves whatever's coming to him, preferably in the form of a botanical gullet.
Does Seymour get the girl? Does Mr. Mushnik get the successful store he's always wanted? Does Audrey get out of Skid Row? And, does the dentist get what's coming to him?
All those questions are answered in Citadel Theatre's production.
The intimate theater itself, surprisingly located in a high school, is small. That means there isn't a bad seat in the house. It also means the crew has extremely limited real estate for the set. Yet, somehow, with creative lighting and expert use of space, they pull it off.
The acting and singing is superb. The trio of singers who open the show, Chiffon, Crystal, and Ronnette, played by Ania Martin, Isis Elizabeth, and Sabrina Edwards respectively, will have you be-bopping right along with them. Equity actor Philip C. Matthews is Orin Scrivello, D.D.S., and if he's not having an absolute blast playing the dastardly dentist, he can pull my teeth.
Alan Ball is the other Equity actor in the cast. His Mr. Mushnik is brilliant, and I'm not just saying that because I know Alan. Well, actually, I am, because during his performance, I completely forgot I was watching Alan Ball. I was watching Mr. Mushnik. From mannerisms to voice to dancing, he inhabits the character.
Sam Shankman plays Seymour Krelborn, the lovesick orphan whose purchase of a plant during a total eclipse of the sun changed all their lives. He's charming and his clear, beautiful voice has you rooting for him, even as he falls further and further under Audrey II's spell.
The original Audrey is played by Dani Pike. Wow – what a powerhouse. She plays the kind Audrey with vulnerability and sweetness, and when she sings "Somewhere That's Green," you can feel the yearning. Her voice fills the theater and you're left listening in awe.
And then there's Audrey II. A true team effort, the plant's puppeteer is Michael Dias and the voice is Aaron Reese Boseman. The two performed in perfect harmony; even though you know the plant is a puppet, Dias' and Boseman's coordination was so in sync it seemed like their character was a next-generation animatronic, fit for a Marvel movie.
I highly recommend seeing Little Shop of Horrors at Citadel Theatre. It's running Thursdays through Saturdays until October 16. Get tickets here.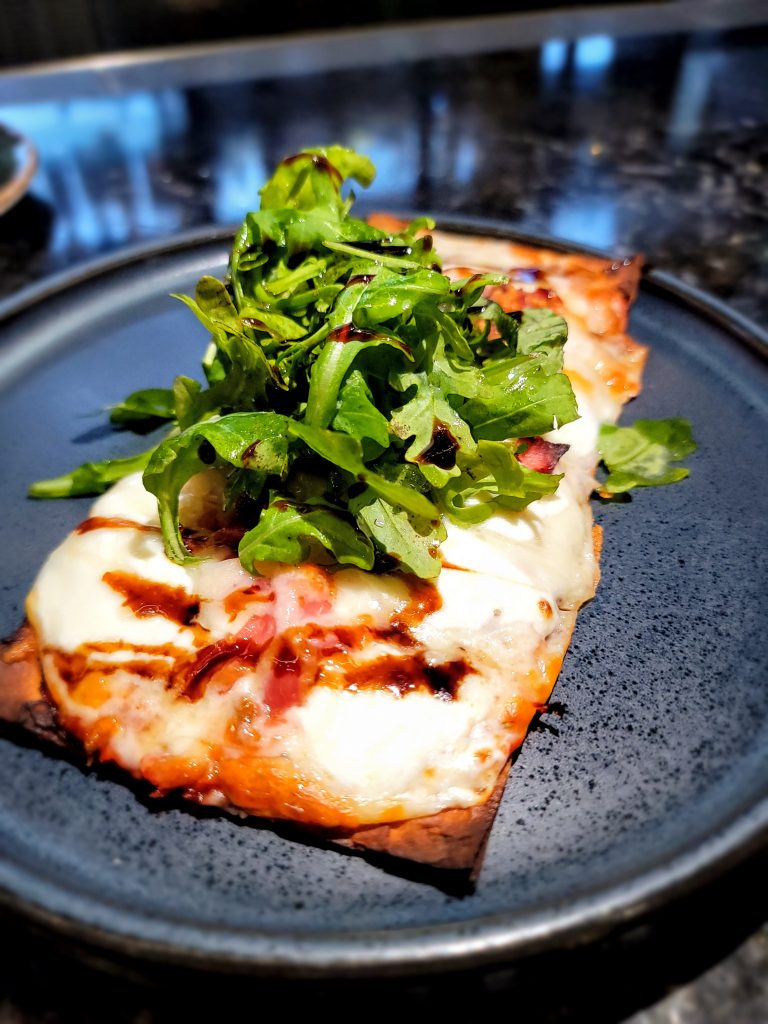 If you're hungry before the show, Citadel has partnered with some local restaurants who offer discounts if you show your tickets. Oaken Bistro + Bar offered 20% off the whole tab, as well as access to Happy Hour Specials, and we had some pre-performance appetizers and cocktails.