Perry's Steakhouse and Grille invited Your Chicago Guide to attend a special pre-opening tasting event on October 21, 2020. I have come up with 5 reasons to visit the new Perry's Steakhouse in Schaumburg.
Perry's has had a successful location in Oak Brook since 2013, serving up some of the best steaks in the western suburbs. I have had the pleasure to visit that location several times to write about various offerings including "Pinot and pork for Sunday supper" and "Pork Chop Friday".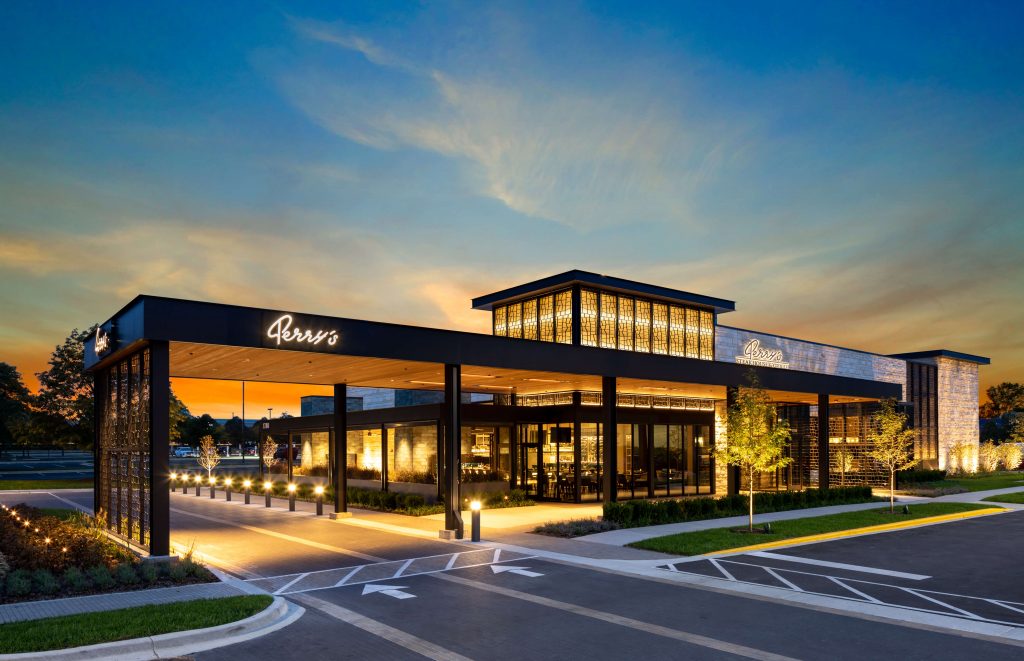 The newest suburban location of Perry's is now open in Schaumburg, providing their iconic Rare and Well Done® experience to a larger potential audience. According to Chris Perry, founder and owner of Perry's Restaurants:
"We are so proud to open Perry's Schaumburg showcasing our beautiful new look and feel –and to expand the Perry's experience to more Chicagoland guests. We've come a long way from our roots as a small butcher shop in Texas. Over the past four decades, we've grown to focus not only on great food, but also creating a unique dining experience and we are excited to share this with the Schaumburg community."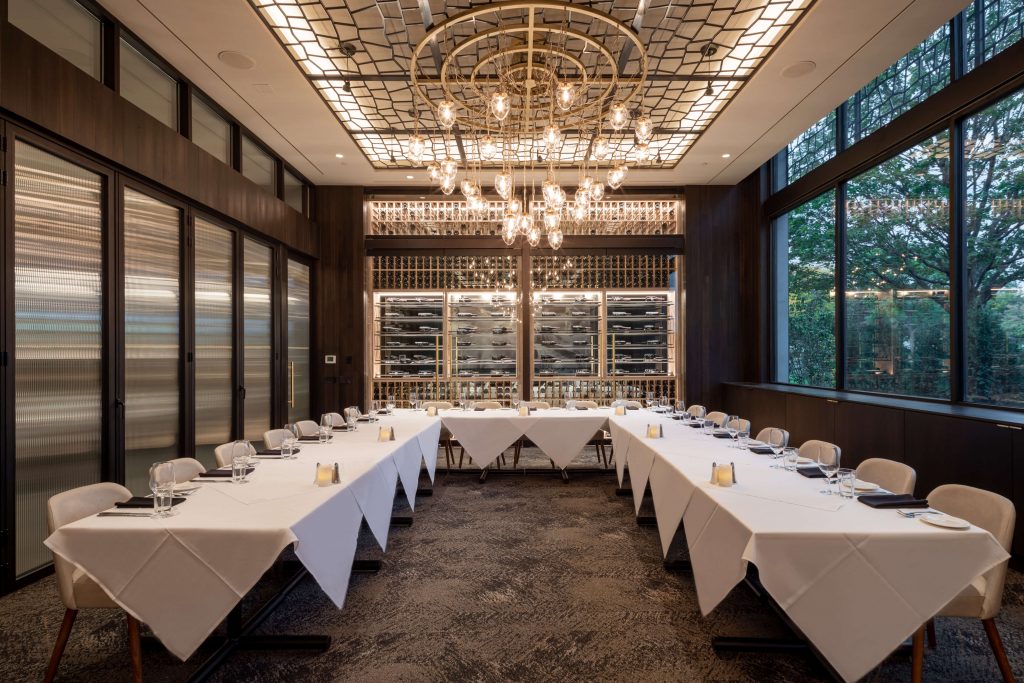 The recent tasting experience reminded me once again just how excellent a Perry's experience can be. It occurred to me that there are many excellent reasons to visit this – or any – Perry's but I have distilled it down to five areas.
LOCATION: Perry's is located on E. Golf Road just moments from I-290. The access to the interstate makes this a perfect location for anyone traveling on I-90 or I-290. The restaurant is free-standing and has ample free parking.
AMBIANCE: The Perry's in Oak Brook is truly beautiful, but was created in a pre-existing space and had to adhere to those limitations. This new site did not have those restrictions, so it is a free-standing structure designed to be precisely what Perry's wanted it to be. Throughout, the space soars with enormously high ceilings. The color palette is bright and modern, bringing an exciting vibe to Schaumburg.
The main dining room includes a spectacular wine wall as guests catch glimpses of Perry's chefs creating innovations in the kitchen. At the opposite side of the building, Bar 79 includes a gorgeous island bar setting with glass walls that open to a heated patio dining area with two cozy fireplaces.
Designed in partnership with renowned restaurant architect Aria Group Architects, Inc., the 12,000 square-foot Perry's Schaumburg can seat over 330 guests at full capacity but will open adhering to social distancing guidelines and upholding the highest cleaning and sanitizing standards.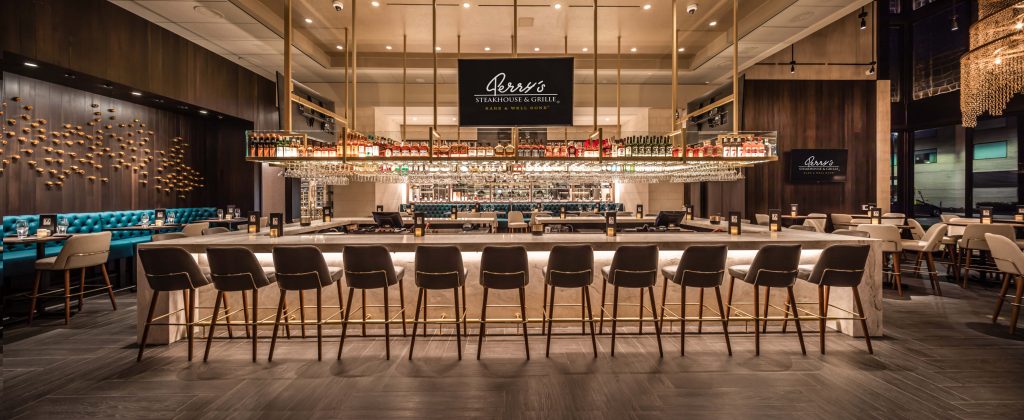 SERVICE: All of my experiences at Perry's have included impeccable service and this was no different. One of the hallmarks that makes Perry's rather special is the inclusion of several different tableside preparation options. There's something intriguing about having a talented culinary artist prepare something at the table – whether it be the carving of the iconic pork chop or the Chateaubriand or the more spectacular flaming dessert options. Overall, Perry's ticks all the boxes when it comes to knowing how to take care of their diners.
COCKTAILS/WINE: Here we are finally getting down to the final two and most important aspects of a trip to Perry's – the beverages and the food. Their cocktail menu includes a number of drinks developed to pair with specific items on the Perry's menu. On my recent visit, the evening began with a trio of appetizers paired with a trio of cocktails.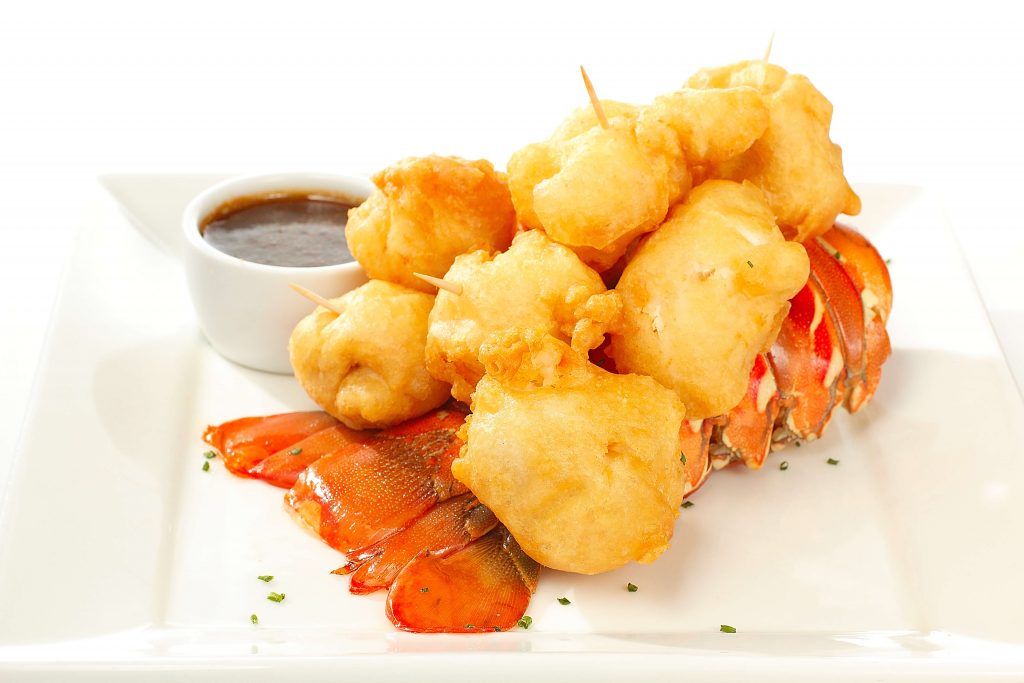 Lobster Tempura (lobster tail fried in tempura batter served with miso butter) paired with the Thyme Lemon Drop (Ketel One vodka, St. Germain Elderflower Liqueur, fresh-pressed lemon juice and freshly-muddled thyme, rimmed with sugar): The combination of sweetness and herbal notes in the cocktail were a beautiful accompaniment to the richness, umami, and saltiness of the lobster and miso sauce.
Seafood Stuffed Mushrooms (button mushroom caps stuffed with seafood, vegetables and breadcrumbs, broiled then served over Suga Rosa sauce) paired with the Peachy Glen (Glenmorangie 10 Year Scotch, Belvedere Pure Vodka, fresh-pressed lemon juice and peach and stone fruit purees): That hint of smoke (peat) in the cocktail was a nice combination with the savory taste of the mushrooms, but the best part was that hint of sweetness from the peach puree that added one of the few flavors missing from the food preparation.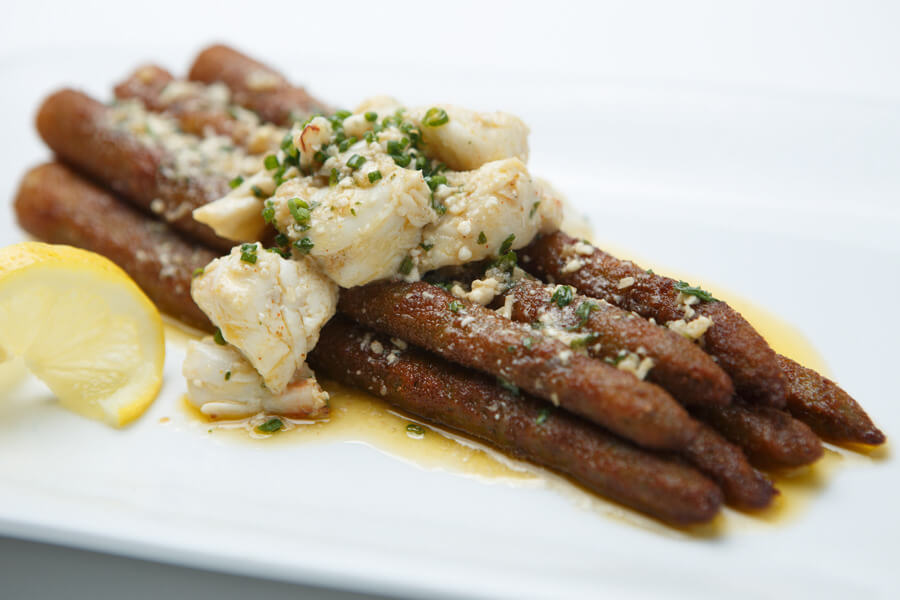 Perry's Signature Fried Asparagus with Jumbo Lump Crab paired with the Smoky Rita (Hornitos Black Barrel Tequila, 03 Premium Orange Liqueur, fresh-pressed lime juice and agave nectar, rimmed with habanero sugar): This is my favorite appetizer on the Perry's menu and I was surprised that the Smoky Rita actually paired well with it. I would normally have opted for wine, but the smoky notes and acidity of the tomato cut some of the richness of the dish and helped create a nice balance.
As for wine, all eighteen of the Perry's locations in the country have received the 2020 Wine Spectator Award — an honor reserved only for the world's most expansive and refined wine lists. Clearly, there is something for every wine lover on the list both by the glass and the bottle.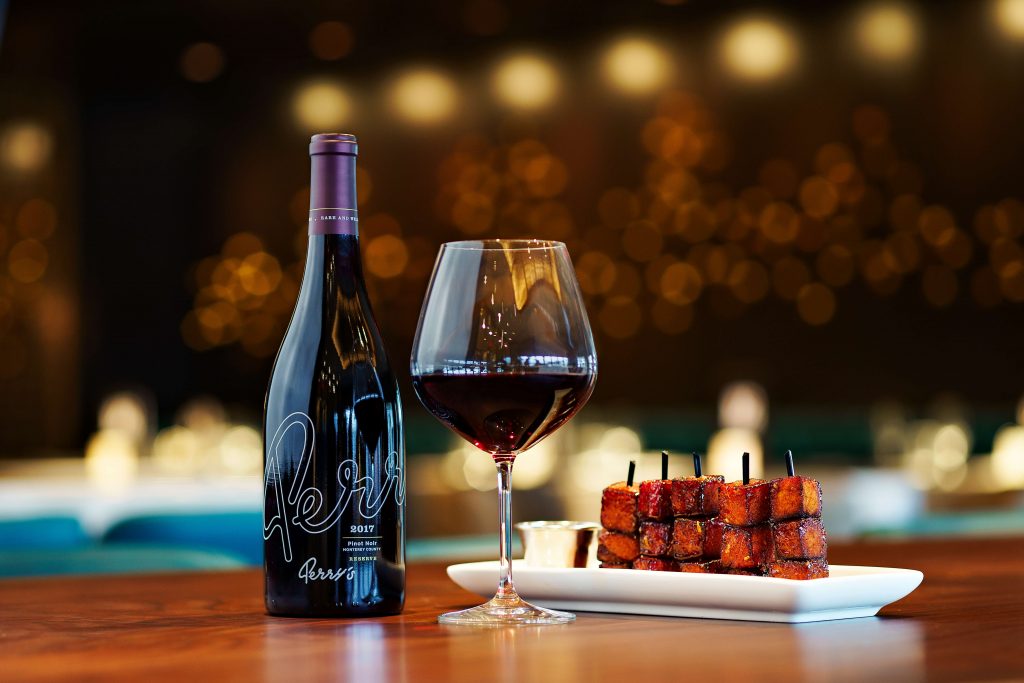 FOOD: Of course, the primary reason to visit any restaurant is the food. Perry's offers many classics of a traditional steakhouse menu, but they also excel at some special iconic items. During my tasting experience, I had the chance to try four of these superb preparations.
Everything Crusted Ahi Tuna (sushi grade Ahi tuna crusted with a blend of toasted poppy seeds, sesame seeds, garlic, and onion flakes): On first glance, you might thing it odd that seafood is such a staple at a steakhouse, particularly one in the Midwest – but Perry's excels at their seafood options. This is a newer menu item and is a perfect fit when you are dining in a group and not everyone is a red meat eater. It is simple in concept, but the interplay of the items in the crust mimic the Everything Bagel (hence the name) and create a unique combination.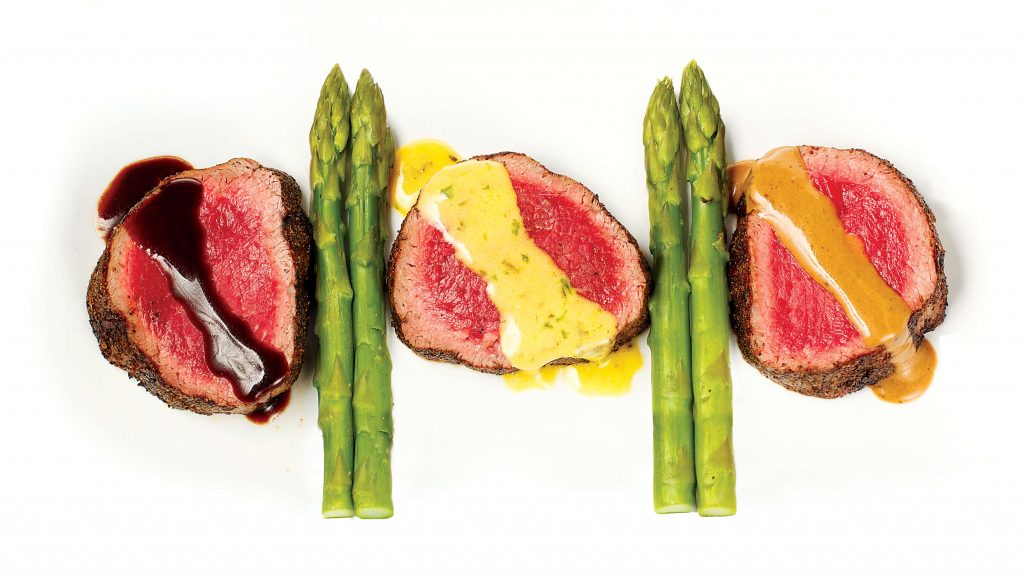 Chateaubriand (three medallions served with Truffle Merlot Demiglace, Bearnaise, and Peppercorn reduction sauces): Perry's is a steakhouse, after all, so it is no surprise that this was one of the best preparations of the evening. The Chateaubriand is carved tableside, then plated up with a trio of sauces. All of them are superb, but my clear favorite is the Truffle Merlot Demiglace. Truffles and Chateaubriand = a perfect combination.
Perry's Famous Pork Chop Bites (smoked, cured, roasted, caramelized, served with herb-garlic butter): Let's face it. Anyone who has been to Perry's has either seen or eaten one of their famous pork chops. Relatively new to the menu, however, is this adapted version of the dish. The meat is the same succulent chop, but in small, skewered bite-sized morsels.
Of course, if you prefer the full iconic pork chop, that will come as a seven-finger high portion, carved tableside and served with herb-garlic butter. If you love it, you can try it at home. Perry's recently launched on online market for guests who want to bring the Perry's experience directly to their door. Perry's Famous Pork Chop is available to ship fully cooked and frozen with ice packs and includes steak butter and instructions on how to heat.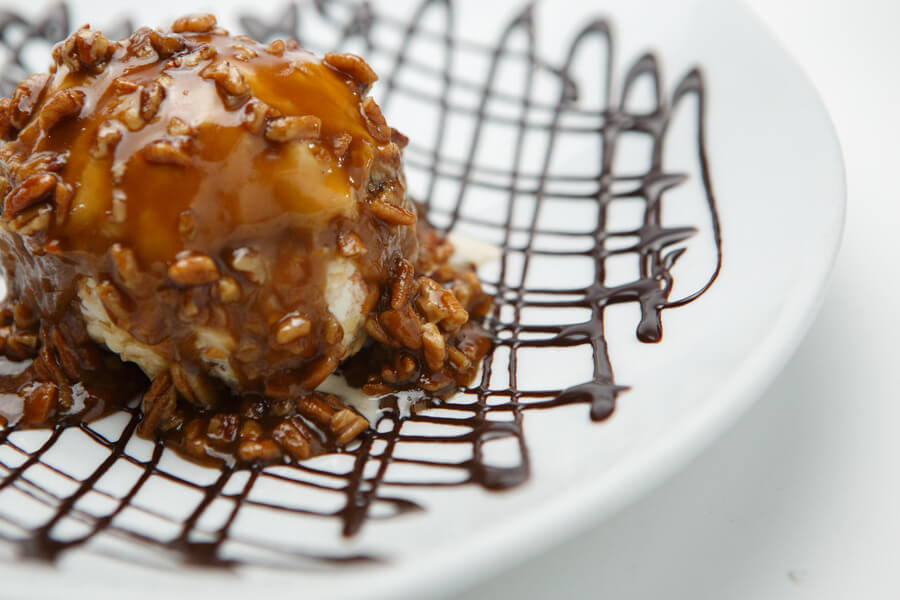 Nutty D'Angelo (crushed pecans, brown sugar, brandy, served over vanilla ice cream, dipped in white chocolate and toasted almonds): This is one of Perry's most requested and most singular dishes. The dessert if prepared tableside, including flaming the brandy. This one came paired with the Jameson Mocha Old Fashioned (Jameson Caskmates Irish Whiskey, house-made coffee syrup, mole bitters and a hint of orange). A perfect ending to a gorgeous meal.
The newest Chicagoland location of Perry's Steakhouse & Grille is located at 1780 E. Golf Road, Schaumburg. Dine-in dinner service will be available Sunday through Thursday from 4 – 9 p.m. and Friday – Saturday from 4 – 10 p.m. with lunch on Fridays at 10:30 a.m. and curbside pick up TO-GO every day from 11 a.m. – Close. For reservations, please call 847-648-7451 or visit PerrysSteakhouse.com. 
Please note, hours of operation may vary depending on occupancy limits imposed by local or state authorities.