Some buildings survive for decades – centuries, even – intact.
They're preserved, inside and out, and to cross the threshold is to take a time machine. Palmer House Hilton, for example. From the peacock doors to the muraled ceiling, the history of the place surrounds you, nearly beats you up with its presence.
Hotel Julian Chicago isn't like that.
Instead, this primely located boutique hotel is an amalgamation of past and present. It's a dapper gent with a vintage frock coat and modern accessories. It is, as they say, "An Original Remix."
My stay at Hotel Julian and meals at About Last Knife were comped. However, all opinions are my own and not influenced at all by the swanky robe and awesome view. Also, there are affiliate links in this post, which means I may get a small commission at no extra cost to you.
The building at 168 North Michigan Avenue began its life in 1912* as the home of Federal Life Insurance Company. The August 9, 1963 issue of LIFE Magazine cites a new Calder in the lobby of what was then known as the Maremont Building. Later, the National Bank of Greece took possession, and the building became known as the Atlantic Bank Building. From 1995 until 2004, the Hellenic Museum and Cultural Center exhibited Greek heritage and culture in one of the upper floors.
Then, everybody left.
It wasn't too long ago that you could walk by 168 North Michigan Avenue and look straight through to Garland, that short street disguised as an alley. If you looked up, you'd see white terracotta and then have to blink as some of the dust drifted down, down, down.
The building sat empty for years, until in 2012 a developer bought it. Scaffolding appeared and blocked the first couple of floors. Its facade was going to be rejuvenated and the interior made habitable again.
The plan was to turn it into a Hotel Indigo. Work began and the building took on a pockmarked appearance as pieces of the century-old terracotta were sent out for repair. But renovation stalled over issues with permits and an air rights dispute with neighbor Crain Communications Building.
It seemed like this Benjamin Marshall beauty might be destined for life as an eyesore or as an eventual pile of rubble.
Fortunately, a Chicago company stepped in. Oxford Capital Group, helmed by architecture fan John Rutledge, took over the property and began its transformation from demolition-ready to luxurious lodgings. They'd already done this with the London Guarantee & Accident Building, opening it as LondonHouse Hotel in 2016.
Find more boutique hotels in downtown Chicago
In an illustration of how small Chicago really is, Oxford had purchased the London Guarantee Building from Crain Communications, the same company that now owns the building next to 168 N Michigan and that caused Hotel Indigo so many problems.
Oxford secured the permits and the air rights, adding five floors to the orginal twelve. In doing so, they fulfilled Benjamin Marshall's plan; he'd had to stop construction at an even dozen.
Because cranes aren't allowed on Michigan Avenue or Garland Court, W.E. O'Neil Construction installed equipment on the twelfth floor and used pulleys to ferry the materials up the side of the building. Then they'd move the equipment up a floor until they completed all five, using an old-school technique to add modern glass-walled construction.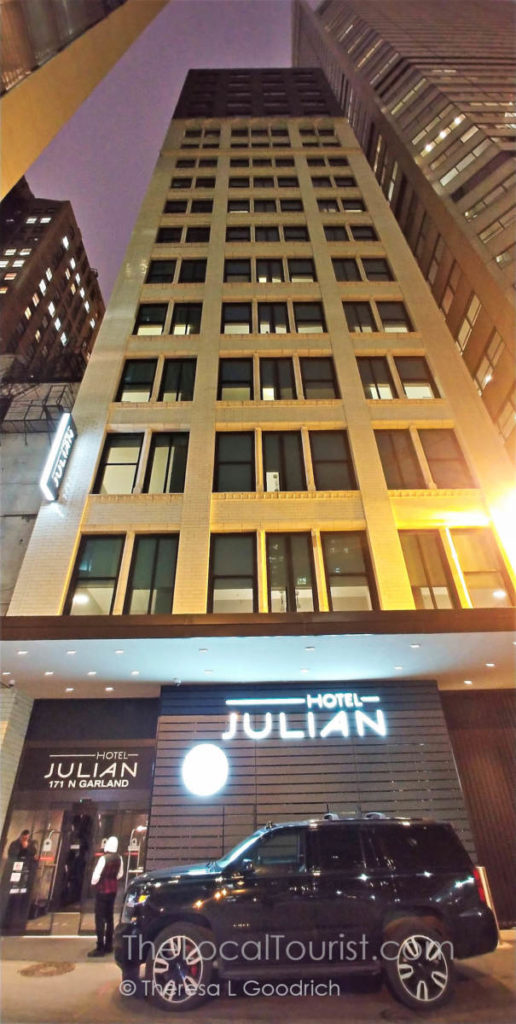 As you enter the building from Michigan Avenue a glimpse to your left brings you eye to eye with Mr. Marshall himself. By all accounts a dashing, charismatic man, he was not only a talented architect, but he also threw quite the shindig.
Think Gatsby, but for real.
The mural depicts his handsome visage flanked by a Packard to the right and to the left, his studio. "Studio" is, well, underplaying it a bit. This extravagant North Shore villa welcomed movie stars, dancing girls, a President, and a future King.
Forget guest books; Marshall had them sign a coffee table. Callers might mingle in the Pompeian Room, or recline in the Egyptian Room while boats sailed in Wilmette Harbor.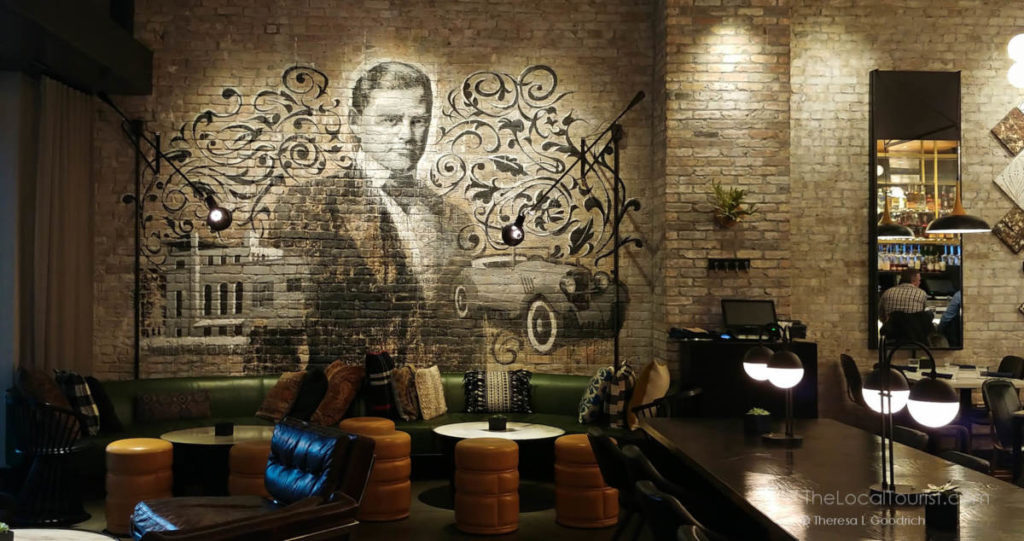 This was a man with panache, an architect whose extravagance extended beyond the designs he and his partner, Charles Fox, created, to his life.
Hotel Julian Chicago Today
There's a touch of his insouciance in the lobby of Hotel Julian Chicago. To the right, knives protrude from a giant wooden disk. Want to spin it? Go for it.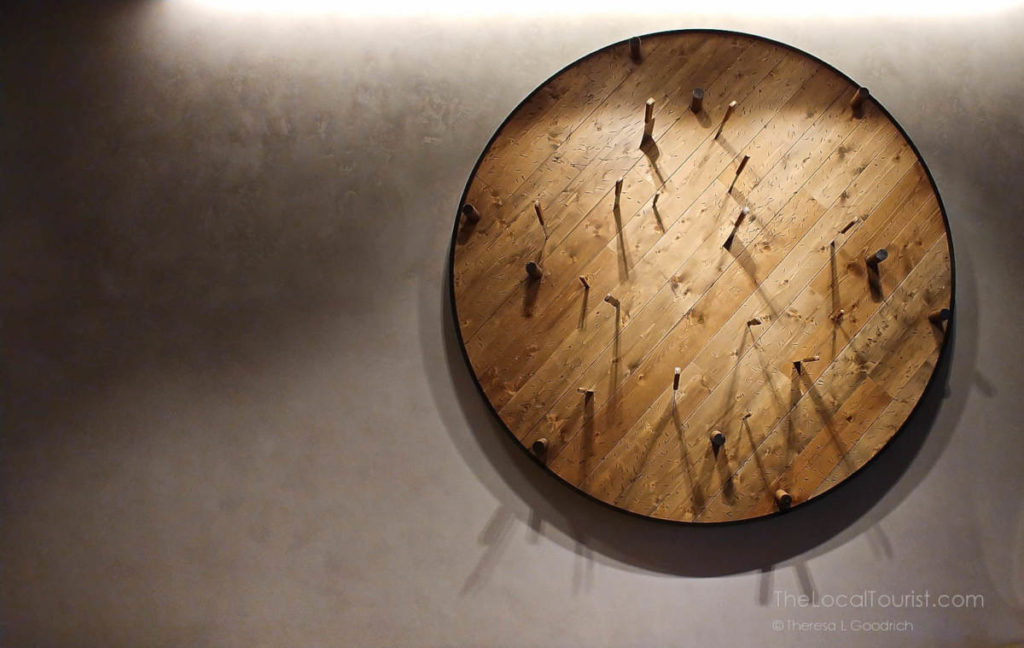 Old books are stacked in diamond-shaped cubbyholes. Their covers are missing, to the chagrin of The American Writers Museum located a couple of doors to the north. This interior designer's foible is an author's win; to replace those naked tomes, Writers Wednesdays gives any author who donates a book on hump day a free drink at the on-site restaurant, About Last Knife (hence, the spinning wheel o' knives).
Bonus: the cocktails are novel-themed. There's a Hemingway daiquiri, of course, and Wicked, Wicked Ways, made with tequila, apricot liqueur, and lime, is an homage to Sandra Cisneros.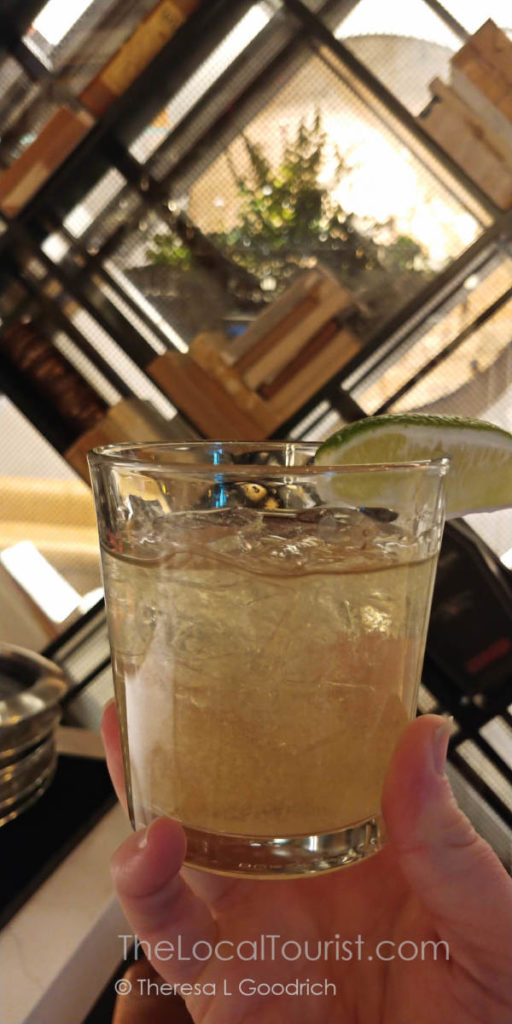 Do you enjoy Chicago history? Get your copy of Living Landmarks of Chicago.
Because the exterior ornamentation had been damaged and the interior was essentially gutted, the building was not eligible for landmark designation. That meant Oxford had carte blanche. They could have razed it and started from scratch.
Instead, they found the original Marshall and Fox designs for the terracotta at the University of Texas and commissioned Boston Valley Terra Cotta to recreate the missing pieces, which were a full third of the original. They kept the century-plus brick and mortar and within those solid bones built a hotel fit for the modern traveler.
Each room is equipped with a Nespresso maker, in-room safe, refrigerator that only turns on when you put something in it, 300-count Frette linen and robes, Panpuri bath products, a hand-held steamer, and an alarm clock radio with wireless charging.
Bottled water and hi-speed wifi are free, and valet parking (extra charge) comes with in-and-out privileges, which is practically unheard of in downtown Chicago. Comfortable beds are topped with just-right pillows.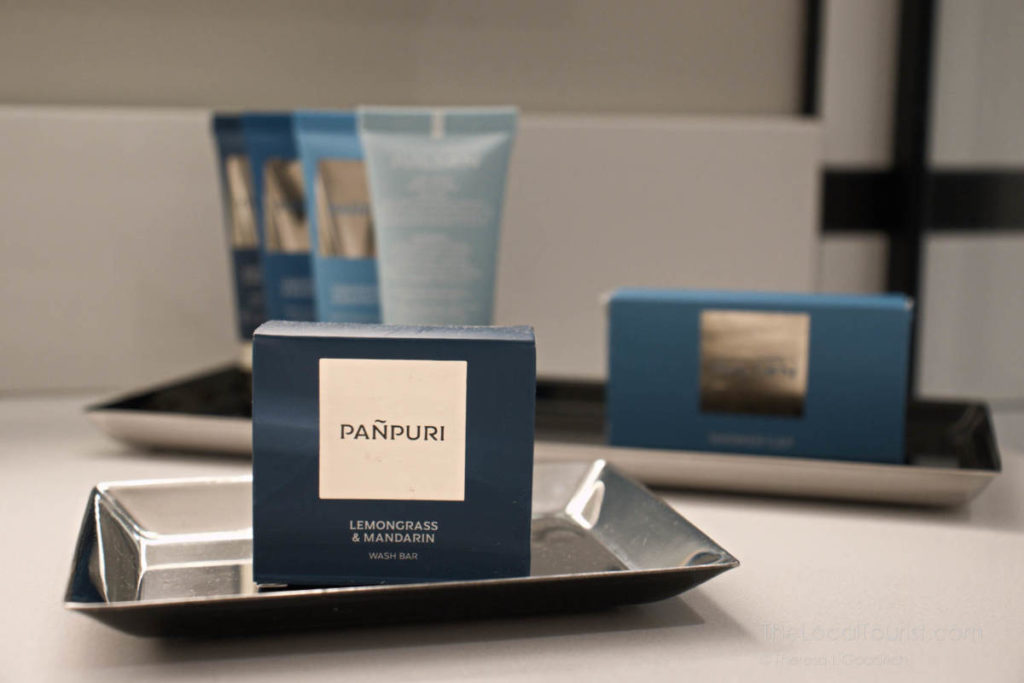 There are thoughtful touches, like the motion-activated lights at the base of the bed, making nighttime bathroom visits less dangerous, and individual reading lights in case you're the kind that wants to stay up late to finish just one more paragraph (cough cough).
Rooms are king or queens; there are no suites. They're not necessary. Hotel Julian's location means the city is your suite.
Related: Hotels near Grant Park
That alone could be a selling point. This hotel is at the top of the Cultural Mile and the bottom of the Magnificent Mile, a couple of blocks from the Theater District and kitty-corner from Millennium Park.
The restaurant is another. A hybrid steakhouse / gastropub, About Last Knife offers beef wellington by the slice and killer charred octopus along with prime cuts and small plates in addition to the aforementioned novel-themed cocktails, wine, and a selection of craft beer. Brunch portions are reasonable so you won't be too full and you'll actually feel like exploring instead of climbing back into bed.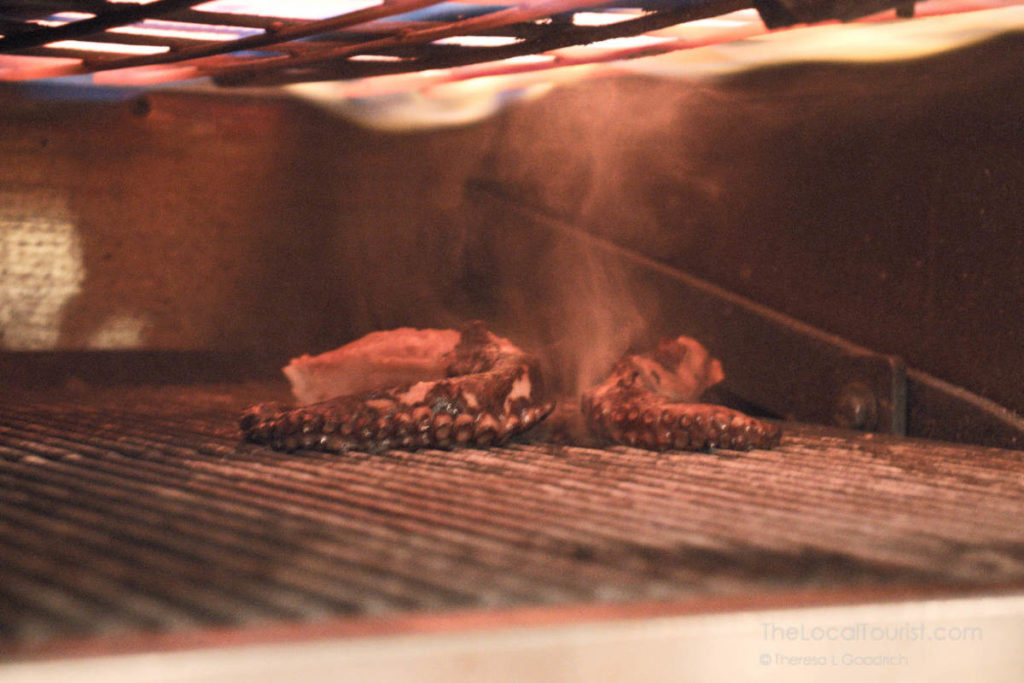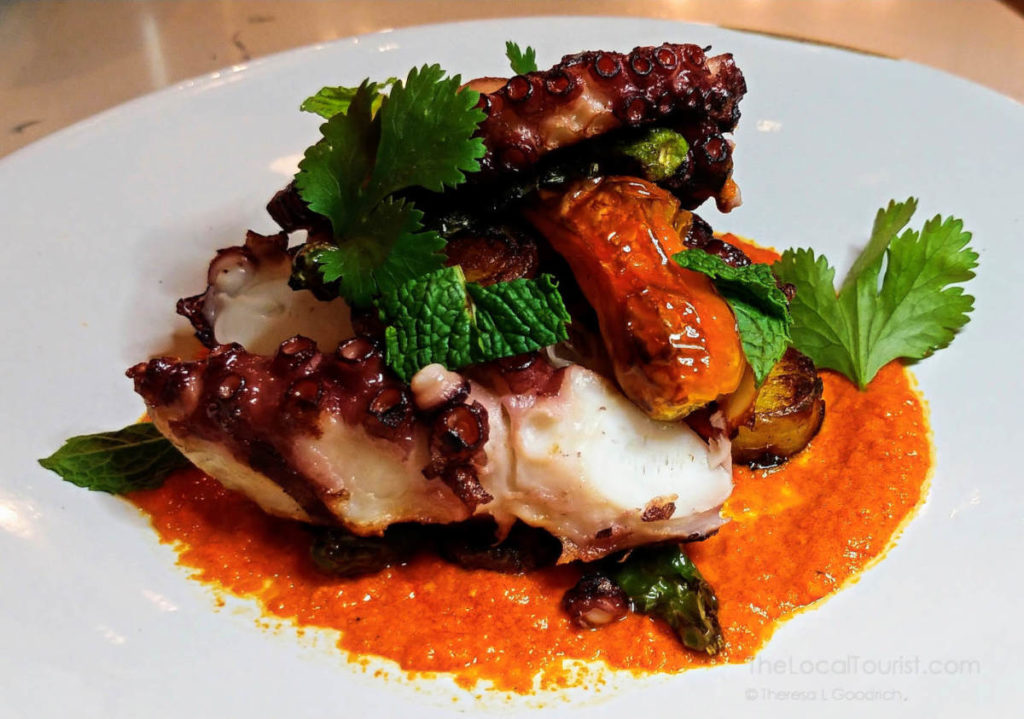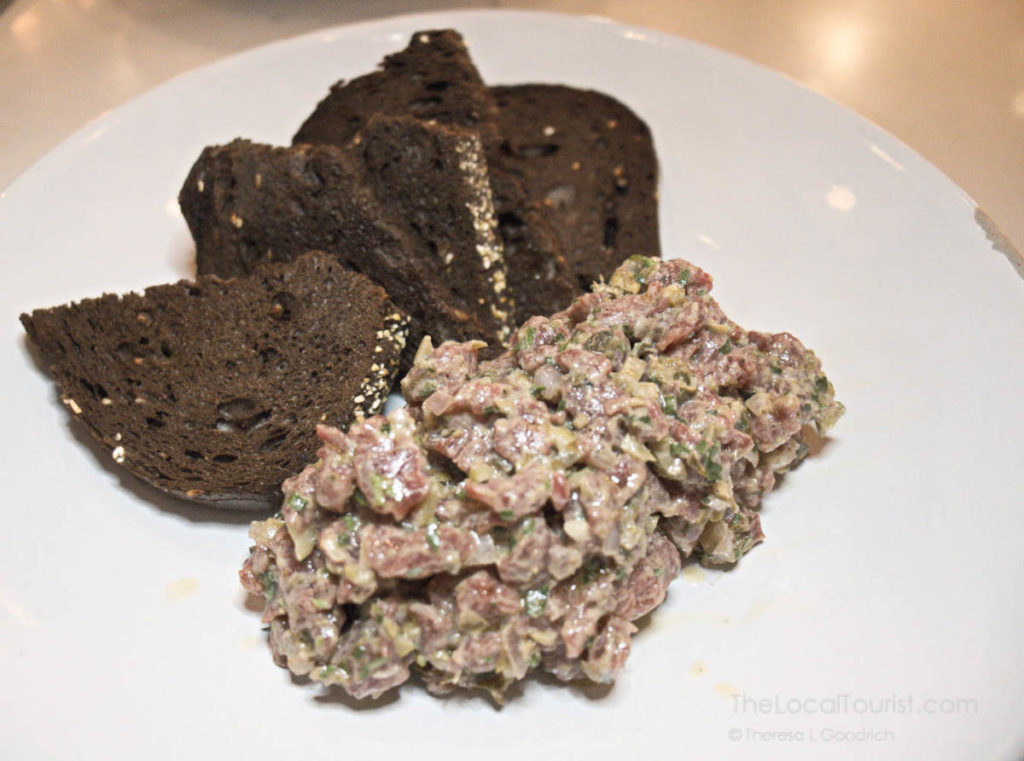 Service is stellar. Throughout. As I was leaving, Eddie, who had kindly stowed my bags the day before while I awaited check-in, showed me the spinning cutlery and then asked if I'd seen the staircase. He opened the door and revealed a wall lined with celebrity photos with colorful swaths painted across their eyes. A succession of years is painted on the stairs, leading up through time from the base of a historic building to the modern accommodations above.
Hotel Julian is a true boutique hotel in a prime location with luxurious amenities. If you're looking for a unique place to stay in downtown Chicago with a touch of history and reasonable rates, this one fits the bill.
---
Hotel Julian Chicago is located at 168 N Michigan Ave, Chicago, IL 60601. (312) 346-1200. Read reviews | Check rates & book your room
*Some sources state 1916 as the building's date, but an issue of The Spectator: An American Review of Insurance dated April 4, 1912, details Federal Life Insurance Company's move into the new building at "166 and 168 North Michigan avenue {sic}."