As a Midwestern gal I have a thing for comfort food. I grew up surrounded by corn fields and potatoes are my pal. While there's an incredible variety of cuisines in Chicago, sometimes you just want something warm, savory, and / or fried. You want comfort food.
Heaven On Seven is comfort food, Cajun-style. If you've had the legendary Loop restaurant's famous gumbo, you know it's a bowl of rich comforting slightly-spicy happiness topped with rice. Their t-shirts say "People who come back from heaven all say the same thing. Try the gumbo."
The restaurant, located on the seventh floor of the Garland Building, has been a fixture on Wabash Avenue for 36 years. Gus and Cathie Bannos originally opened the New Garland Coffee Shop in 1980, but after their son Jimmy found a love and appreciation for Cajun cuisine, and their customers agreed, it was renamed Heaven On Seven in 1985.
While the gumbo is a must, there's so much more to enjoy. They've got a whole menu of New Orleans-inspired cuisine, and we had the pleasure of trying a good portion at our recent Chef's Table event. Chef Jimmy Bannos has been tirelessly working to create new menu items and they fit seamlessly with the existing favorites.
His dedication is what makes Chef Bannos one of the best chefs in Chicago, and in the country. But the allure of his restaurant is more than just the food. Heaven On Seven is truly a family business. His nephew Andrew is the manager; he joked that when he grew up, instead of soap he'd get punished with hot sauce. He also ate fried pickles for two weeks in their campaign to find the perfect recipe.
They found it. The Mississippi Fried Pickles with white remoulade sauce are a new offering on the menu. They should stay, and next time they want to test recipes I want to volunteer.
Another new dish – I can't even type this without drooling – is the fried jalapeno cheddar corn bread topped with pimento cheese. Just give me a basket. And a bib.
Grits are the epitome of southern comfort food, and Heaven On Seven knows grits. One of their newer iterations is Grilled Shrimp & Parmesan-Reggiano Cheese Grits with New Orleans Roast Beef Debris. This is surf and turf with comfort.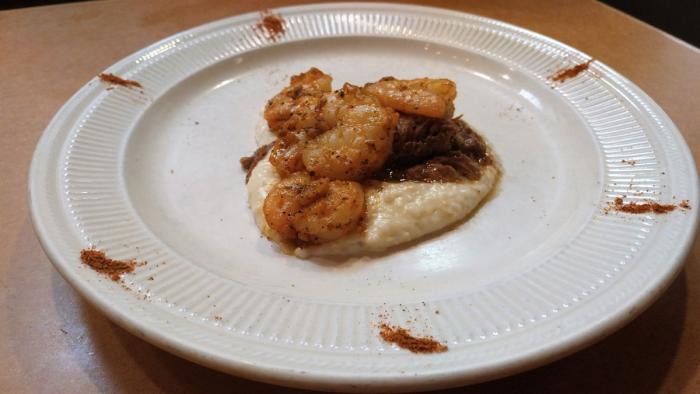 Want something else on your grits? There's a whole menu board of choices.
If you want to kick things up a bit, get the Nashville Hot Chicken. I don't know how they do it, but that chicken is so juicy and it's flavorful even without the notched up-breading. With the breading though – shoowee! It's served over some cool and creamy coleslaw to calm things down a bit.
For a (very) slightly sweet, mostly savory entree, try the New Orleans Style BBQ Shrimp over Rice.
It was a close race, but this was my favorite dish of the evening, and I loved everything. Others preferred the gumbo, and others preferred the grits, and others preferred – you get the point. You basically can't go wrong with anything you order.
Especially the pie. They've got pecan pie, chocolate pecan pie, key lime pie, peach cobbler, peanut butter chocolate pie – they've got PIE.
If you want to see what's coming up next follow Chef Bannos on Instagram and Facebook. Better yet, make a trip up to Heaven On Seven, and try the gumbo.
Heaven on Seven is located at 111 N Wabash Ave. They're open for breakfast and lunch Monday – Friday 10:00 am – 4:00pm and Saturday 10:00am – 3:00pm, and for dinner Thursday 5:30pm to 9pm and Friday and Saturday 5:30pm to 10pm. It's cash only and they've got an ATM onsite.