Get out your dancing shoes! The Chicago SummerDance Festival is the largest annual outdoor live music and dancing series in the United States.
In 2020, it returns for its 25th year to Grant Park's Spirit of Music Garden (601 South Michigan Avenue).
On most dates from June 25 through August 22, 2020, you can learn how to dance with lessons and live music on Wednesday through Sunday evenings. They cover styles from all over the world, and even the floor is earth-friendly since it's made of 100% recycled materials.
Click here to find more free fun in Chicago
SummerDance in the Parks returns. Seven neighborhood parks are hosting the popular series on Wednesdays from June 25 through August 22.
Dance Downs in the Park is also back in 2019. Dance downs are historic black Chicago talent showcase and today are inspired by modern dance styles like bopping, Chicago footwork, online dance challenges and TV shows like Bring It and America's Got Talent.
SummerDance will feature three dance downs at Hamilton Park Cultural Center on Saturday, July 27, Austin Town Hall Park on Saturday, August 17, and culminating at Cloud Gate in Millennium Park on Saturday, September 21, at YAS! Fest, a celebration of Chicago's creative youth.
As always, SummerDance is free to attend. Just show up and get your groove on!
Dance lessons begin at 6pm on Thursdays, Fridays and Saturdays and at 4pm on Sundays. Lessons are followed by live music and dancing from 7:30pm to 9:30pm on Fridays and Saturdays and 5pm to 7pm on Sundays. SummerDance in the Parks on Thursdays begin with lessons at 6pm followed by dancing to live music from 7pm to 9pm.
Updates and announcements (including weather-related announcements) will be shared onFacebook and on Twitter @SummerDanceChi, #ChicagoSummerDance. For moreinformation, visit chicagosummerdance.org or call the Department of Cultural Affairs and Special Events at 312.744.3316.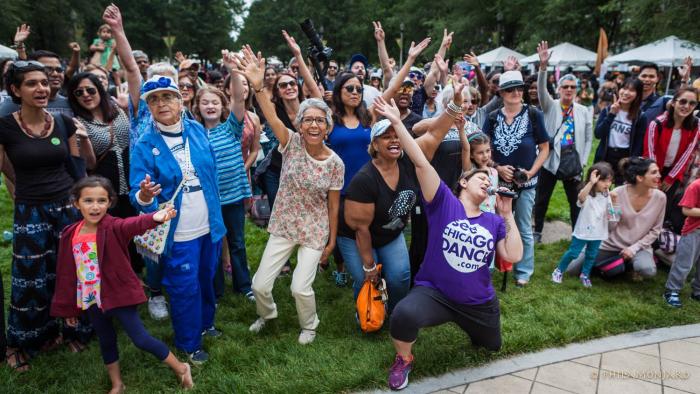 Driving to Chicago SummerDance? Find discounted parking near Grant Park.